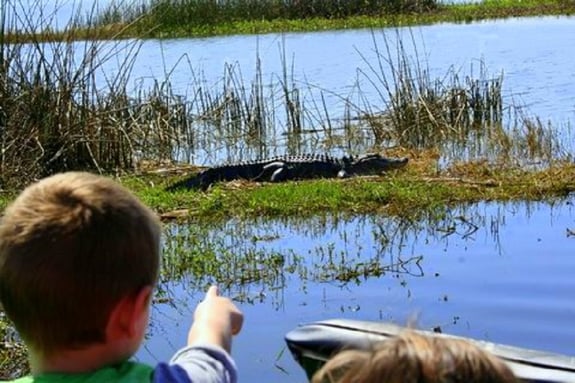 Skirting across a lake looking for gators, eagles, and other wildlife sounds like fun, doesn't it?


We think so, too, and it's one of the main reasons people from all over the world visit Wild Florida.

Our visitors never seem to tire of coming out to the Middle of Nowhere for an airboat ride on Lake Cypress, which is the Florida Everglades!
But what if you have never been on an airboat? What can you expect from your ride?

We've come up with 7 things you'll want to know before you ride on an airboat.

It's real – We would agree with our friends at Experience Kissimmee who say an airboat ride is like a theme park thrill ride, only it's real. The animals you see on an airboat live in the wild!


You're safe – Experienced captains operate our US Coast Guard certified airboats. The ride on an airboat may seem like a white-knuckle experience, but our captains have years of experience and practice safety first.


How loud is an airboat? – The engine on an airboat can be loud, but that's why we provide ear protection equipment on all of our airboats. If you are extra concerned about the noise, we also have additional ear plugs for anyone that might need them.


What will I see on an airboat? – Hopefully you'll see lots of alligators, eagles, turkeys, and other wildlife. But remember, these are wild animals and we don't pay them to act on cue, so it depends on the time of year and time of day you venture out into the Everglades. Pro tip: Morning is when animals are most active!.


Can my kids ride on an airboat? – Children of all ages enjoy our airboats, even some babies. There is no age limit and kids under 3 are Free! Very young children wearing ear protection frequently fall asleep on the ride thanks to the steady noise, vibrations, and fresh air.


When should I book an airboat ride? – Every time you venture into the wilderness in the Middle of Nowhere, you'll have a different experience. If you're riding in the early morning, it's not going to be as warm – especially in the stifling heat of Central Florida summers. If you're up for a real thrill, consider riding an airboat at night!


Looking for answers – Our captains have been on the lakes of Central Florida for most of their lives. They know where the best wildlife spots are and they know about the alligators, eagles, ducks, and other wildlife you will likely encounter on your airboat ride. If you have a question, don't hesitate to ask them! If they don't know the answer to your question, they probably have a friend who will.
So what are you waiting for? Explore the Florida Everglades on a Wild Florida airboat!
---