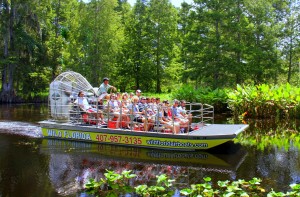 Want to do something different and exciting for your child's birthday this year? How about a wild birthday party in Orlando? Your child and his or her guests can experience animals and an airboat ride at Wild Florida, located less than 30 minutes south of St. Cloud and Kissimmee and an hour away from downtown Orlando.
When you arrive for your wild party, we suggest you start with a 30-minute airboat ride and see how many animals the kids can count while gliding along Lake Cypress. If you are lucky, you will find a set of eyes staring back at you from the swampy area of the lake. Here are 7 animals the children might see on an airboat ride in Orlando. If you didn't get enough of alligators in the wild, here are four other places your wilderness explorers can see wild alligators in Orlando in the Wild Florida Wildlife & Nature Park.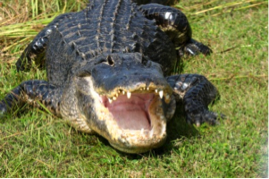 Seeing alligators is one thing, but getting to hold one is in the bragging rights category (and something every birthday boy or girl should be able to lay claim to). Learning about alligators from an animal trainer and getting your photo taken while holding a baby alligator is not something you get to do every day. And, each birthday boy or girl gets an alligator-themed gift after the party. Which, mom knows that means she doesn't have to worry about party favors herself!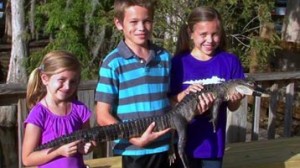 Having a wild birthday party at Wild Florida won't break the bank, either. If you want to bring in pizza to your party, that's okay with us. Admission to the Wild Florida Wildlife & Nature Park is only $10 per person and we'll take 20% off the $23 price of a ticket for a child's airboat ride.
For $15 per adult and $12 per child, the children in your birthday party gets space on our beautiful deck or picnic areas, admission to the Wildlife & Nature Park, a hands-on alligator demonstration, meal of hamburger, pulled pork, chicken strips, or sandwich with two sides and a drink.

Wild Florida can also add special touches like an alligator-shaped birthday cake and use of a 1,500-square-foot deck overlooking the swamp.
So, is your little one ready for a birthday party on the wild side? Get in touch with our party planner.