Are you planning a birthday party for your youngest child? Is your sister's college graduation coming up? Is your best friend getting married next year? No matter what type of event you're looking forward to planning, where you're going to have the event is usually the first thing that comes to mind. In Florida, we don't have to worry about snow or extremely cold weather getting in the way of choosing a venue, so we usually have the option to decide whether an indoor venue or an outdoor venue is best for the occasion. Below, we're sharing all the details on the difference between indoor and outdoor venues in Orlando.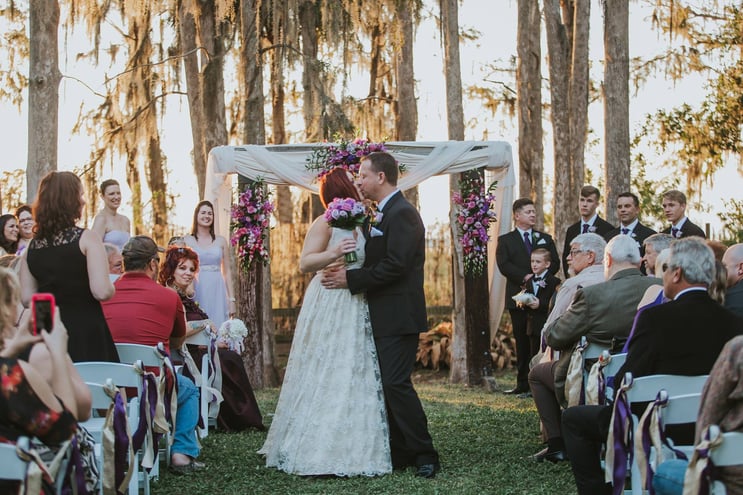 Indoor venues vs. outdoor venues
An indoor venue may offer different things than an outdoor venue and vice versa, so it's crucial to know what's most important to you and your guests. An indoor venue offers temperature control, the guarantee of no weather problems, power availability, and guaranteed restrooms. However, an outdoor venue can offer a breathtaking atmosphere, open space, and more activity options for the kiddos.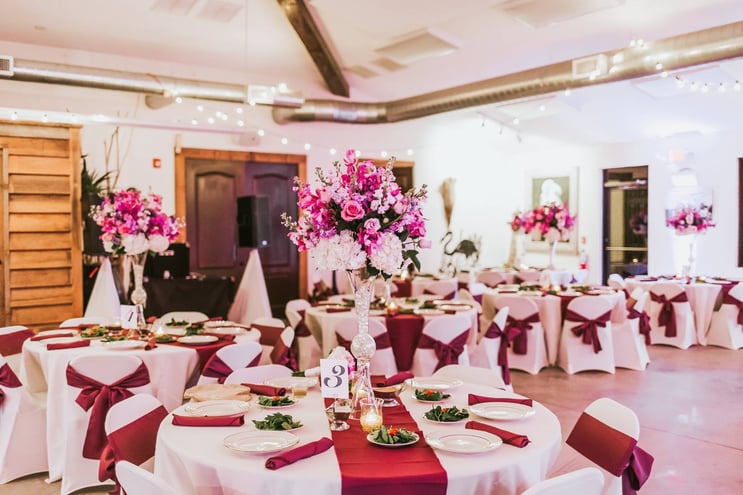 Indoor venue perks:
Temperature control – Floridians are usually hot. It doesn't matter if we're inside or outside. An indoor venue usually offers you full control of the temperature, so you can turn down the thermostat if guests are warm, or during Florida's few cold days, you can turn up the heat!
No weather problems – Even though we don't experience snow storms here in Florida, we do have those afternoon thunderstorms and the occasional hurricane. So when choosing a venue, it's necessary to check the weather. However, with an indoor venue, weather shouldn't be a worry.
Power availability – An indoor venue offers no power restrictions. Most indoor venues already have lights installed and have tons of outlets for the DJs to set up or any electronics that may need to be connected.
Guaranteed restrooms – Although most outdoor venues have restrooms available, they may be a bit of a walk. For many guests, this is no big deal, but for some, this might be an issue, so make sure to ask your party planner. However, almost all indoor venues have a restroom located inside the area, close by for guests.
Outdoor venue perks:
Breathtaking atmosphere – Outdoor venues in Orlando offer beautiful scenery and no need for tons of decorations. Depending on what time of the day your event is, the sun rising or the sun setting makes for a great backdrop in photos, too.
Open space – Sometimes with an indoor venue, space can be limited. But with an outdoor venue, the space is more open and usually bigger. With a bigger space comes a larger maximum capacity, which is a plus!
More activity options for the kiddos – Outdoor venues allow for more things for the youngsters to do. Playing soccer, blowing bubbles, and jump roping are all activities that are better to do outside.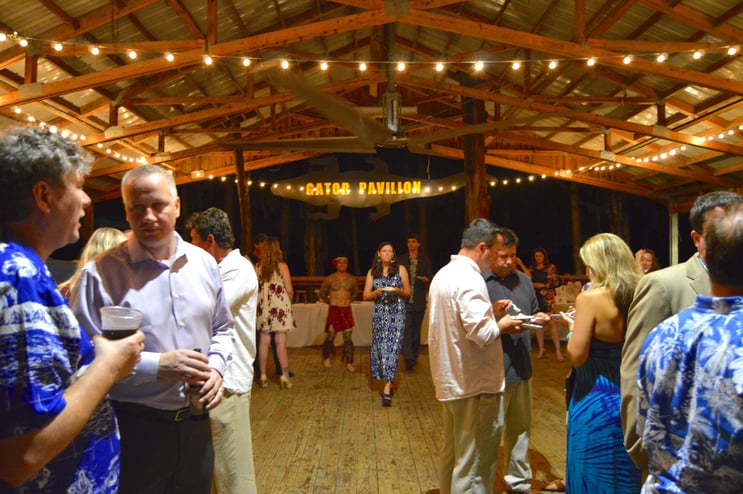 What do the venues include at Wild Florida?
Each event is different, but both the indoor and outdoor options at Wild Florida offer a big space, great atmosphere, backup plans for weather issues, guaranteed restrooms, and power availability. Our 2,200-square-foot, air-conditioned Cypress Ballroom can seat 250 people, and our 1,500-square-foot covered deck area on the shore of Lake Cypress can accommodate 100 people. Our swamp-side Gator Pavilion is also available to seat up to 200 guests and is connected to the covered deck area.
What factors should you keep in mind when planning an event?
Regardless of whether you want your event to be indoors or outdoors, you should consider a few factors. How big is your party? Do any of your guests have needs that should be accommodated, such as wheelchair accessibility? Are there activities to entertain both the youngsters and adults? What time of the year is it? Will it be cool or warm outside? Is it more likely to rain during this time of the year? Is there food available, or do you have to bring your own food/caterer?
Hopefully, we helped answer some of your questions as you're deciding whether your event should be hosted at an indoor or outdoor venue. If you plan to host your next party at Wild Florida, we have both venue types available for birthday parties, graduation celebrations, or even weddings!