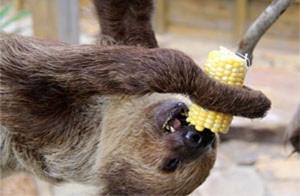 Book yourself a Wild Florida experience and you can look forward to seeing a variety of native animals up close. Our Orlando airboat tours are a great way to experience the wilderness from a fresh perspective and will give you a chance to trek through a nature preserve that's home to a number of animals and plants that make up the Florida Everglades ecosystem. From alligators to soft-shell turtles, be prepared for some animal encounters like no other!
Here is a quick look at some of the animals you will encounter during your Wild Florida experience:
American Alligator
Alligators live in the freshwater rivers, swamps, and lakes around the southeastern United States and it's likely that you'll run in to an alligator or two on your Wild Florida adventure. They may not be the friendliest creatures but you can get up close and personal on one of our airboat tours.
American Coot
It looks like a duck but you'll find these birds in a variety of colors. They feed on aquatic plants,fish, and amphibians in the Florida waters.
Apple Snail
These are about the size of an apple and have round shells that are either shaded yellow or brown. They are very slow-moving and found in the freshwaters of Florida.
Bald Eagle
A bald eagle sighting is one of the highlights of our tours. This is the prestigious national bird of the United States and is recognizable with its white feathers and tail.
Great White Egret
You can't miss this long-necked white bird that tends to settle around the wetlands, streams, tidal flats, and ponds of the region. These birds also have very sharp bills.
Sandhill Crane
These are the most common types of cranes in the world and you'll find them scattered around North America. Most of these birds live in freshwater wetlands and tend to flock to the South during the winter months.
Other animals you may see on one of our Orlando airboat tours include the Florida hippo, glossy ibis, limpkins, and the Osceola Turkey. Please call (866) 532-7167 or click here to buy tickets for our airboat rides and experience Florida's wildlife for yourself.