Have you ever heard the old saying… 'The only stupid question is the one you don't ask."? That's exactly how we feel about the MANY questions we get here at Wild Florida, especially the questions related to taking your first airboat ride.
We don't ever want you to feel like a question you have is too stupid to be asked because that's never the case with us! From safety concerns to what to expect during your ride, we've got you covered. Let's dive into the world of Orlando airboat rides and discover everything you need to know to have a great time before taking the plunge with us through the headwaters of the Florida Everglades.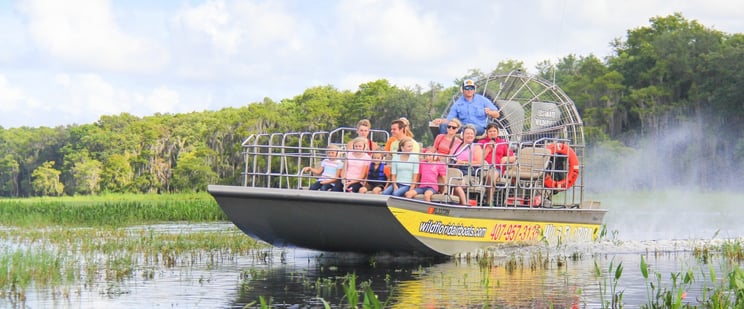 Are airboat rides safe?
Safety is our top priority. You will climb aboard a U.S. Coast Guard-certified airboat that is meticulously maintained, and our experienced captains, who will serve are your tour guides, are highly trained in maneuvering through the Everglades' diverse terrain. Life jackets and other safety measures are provided to ensure a secure and enjoyable experience for all passengers. Sit back, relax, and let us take care of the rest.
How many people can fit on an airboat?
Our airboats can hold a max of 17 adults comfortably. Plenty of room for children if they are joining you on the ride!
How old must my child be to go on a Florida airboat ride?
There is no age restriction for children riding an airboat. All of your children are able to explore the Everglades on an airboat ride!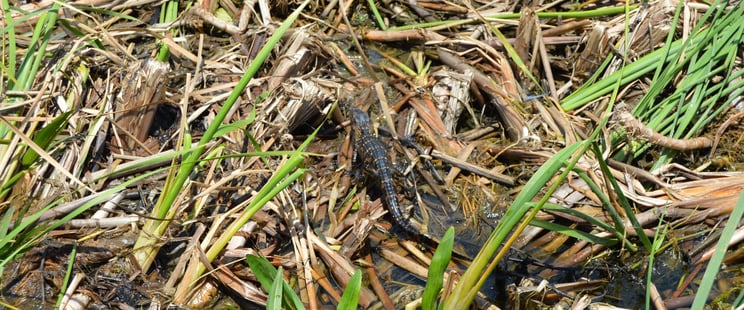 When is the best time to take an airboat ride?
While you'll be able to see animals on your tour no matter what time you go on your airboat tour, you might see different things during the different seasons of the year. For example, alligator nesting season typically lasts from May through July, and hatching season begins in August and lasts through September.
What wildlife can I expect to see during an airboat ride?
The Florida Everglades is filled with fascinating wildlife. Keep your eyes peeled for sightings of iconic creatures and native wildlife like alligators, wading birds, turtles, and more. Our captains, knowledgeable about the area, will share insights about the ecosystem during your excursion and point out wildlife along the way, making your airboat adventure an educational and unforgettable wildlife encounter. Then right after your tour, you can head to our Gator Park which is included with your airbout tour. There you can get up close and personal with animals like never before and even feed a live alligator!
Can I bring my camera or smartphone on the boat tour?
Absolutely! We encourage you to capture the mesmerizing moments during your airboat ride. However, please ensure you secure your belongings properly, as the ride can be exhilarating, and there is a possibility of water splashes. Bringing a waterproof or water-resistant case for your electronic devices is always a good idea.
What else should I bring with me on my airboat ride?
If it's your first time on an airboat ride, here are a few things you should bring on your Florida airboat tour: hair ties, sunscreen, bug spray, a hat or visor, and sunglasses.
What should I wear for an airboat ride?
Dress comfortably and consider the weather conditions on the day of your ride. Light, breathable clothing and comfortable shoes are recommended. Remember sunscreen, sunglasses, and a hat to protect yourself from the Florida sun! If there's a chance of rain, bring a lightweight rain jacket. Remember, it can get breezy on the water, so layering is key.
How long do airboat rides typically last?
The duration of airboat rides can vary depending on the tour package you choose. At Wild Florida, we offer different ride options ranging from 30 minutes to 1 hour or more. Each ride provides ample time to explore the best Everglades airboat tour in Orlando and immerse yourself in its natural splendor.
Check our website or contact our team for specific details about the duration of each ride option.

How far in advance do I need to book my airboat ride?
If you have a larger party or you need to ride at a specific time, we suggest booking at least a week in advance to make sure you and your family are able to ride at that time and sit together on your tour. However, you can book an airboat ride with us on the day of your visit if we have seats available.
Can I reschedule or cancel my airboat tour if something comes up?
We understand that things happen. That's why you can cancel or reschedule your airboat tour if the weather turns sour or if you or one of your family members becomes ill. Just call our toll-free number at 1-866-532-7167 to reschedule or cancel your tour.
I have a voucher from ___. How can I check to see what is included?
Most people purchase tickets directly through our site. But we do partner with different companies to create a unique experience. So, if you purchased your Wild Florida tickets through a third-party vendor, call us on our toll-free number at 1-866-532-7167 or reach out to us on social media to find out which airboat ride is included in your package.
Where is Wild Florida?
Wil Florida is located at 3301 Lake Cypress Rd, Kenansville, Florida. We have airboat rides near Orlando just off the Florida Turnpike and under an hour from major theme parks.
Do you have transportation services to your attraction?
If you don't drive or you didn't rent a car while visiting Orlando, you can book transportation to our attraction through Florida Dolphin Tours or Grayline Orlando.
Now that you're equipped with answers to all of your burning questions about Orlando airboat rides, you're ready to embark on a thrilling adventure through the Florida Everglades. Buckle up and prepare for a close and personal encounter with nature's wonders, guided by our experienced captains who will make your safety and enjoyment their top priority. Excited to go on your tour? Book online now to make sure you and your family are guaranteed a spot on the airboat!