When we opened our doors in 2010, we wanted to provide an unforgettable Everglades experience that promotes a connection with animals while inspiring education and conservation. Despite being best known for exciting Everglades airboat tours, we opened our Gator and Wildlife Park as a way for people to learn about exotic animals found across the world along with educating them on native animals they might've seen in their backyard. On the blog, learn about our enriching and interactive animal encounters and exhibits and the handful of animals you'll be able to pet when you visit.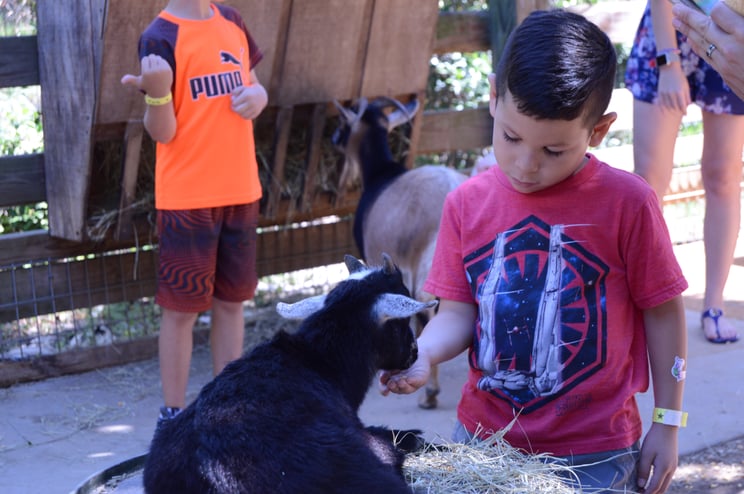 1. Goats and other farm animals
For all of our future farmers and ranchers, inside our Gator and Wildlife Park, you'll find a small petting zoo filled with happy goats and other farm animals eager to meet you. But before you go in, make sure to pick up an animal cone so you can feed them a treat while you're there.
2. Two-toed sloths*
Famous for their sleepy nature and relatable moods, you can have the opportunity to interact with our two-toed sloths. We offer two different sloth experiences for you to enjoy: a sloth encounter or a VIP Sloth Experience. For a separate cost, both of these experiences can take you into the exhibit with one of our sloth family members where you can meet them up close, feed them, receive an educational talk with one of our keepers, and more!
Related blog: How to maximize your day at Wild Florida with free admission to our Gator and Wildlife Park
3. Parakeets and other tropical birds
Just across from our petting zoo, you'll notice our bird aviary shrouded in greenery with glimpses of colorful feathers in between. In our bird aviary, you'll have the chance to meet our tropical bird family, full of vibrant colored parakeets and tropical birds. Inside, you'll be able to pet the birds, but that's if they don't land on your shoulder first.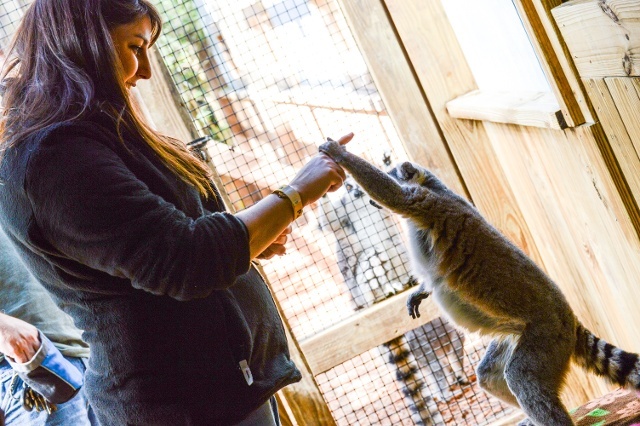 4. Ring-tailed lemurs*
Popularized by the movie Madagascar, ring-tailed lemurs are curious and playful animals that love to meet new people. For a separate cost, when you go on a ring-tailed lemur encounter, you'll be able to meet these guys up close, take as many selfies with them as you want, receive an educational talk, and even go through an enrichment activity with them.
5. African crested porcupine
Don't let their spiky appearance scare you off from meeting and petting our two African crested porcupines. During our African crested porcupine encounter, you'll be able to go into their exhibit and pet Stella and Africa, as not all of their body is covered in quills. Along with petting them, you'll be able to feed them, learn more about their unique personalities, and even play with them (after our trainers teach you how to play their game, of course)!
Related blog: #Protips for visitors: What to know about visiting our Gator and Wildlife Park
6. White-tailed deer
Located near the rear of the Gator and Wildlife Park, you'll see a wide field where our white-tailed deer family play (minus the antelopes). If you've caught them on a cool day or when they're in a playful mood, they'll often come up close enough for you to pet and scratch them behind the ears. But, to help with introductions, we do have some animal feed available for 50 cents that will make them quickly warm up to you!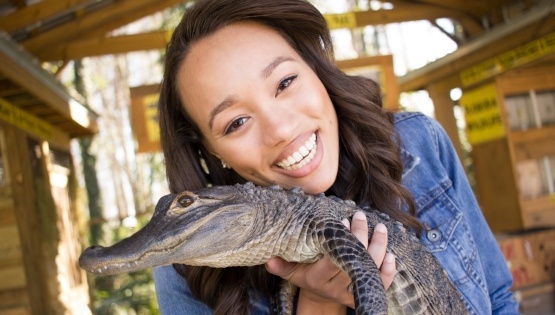 7. American alligator
During our Exotic Animal Show, you'll be able to learn about some of Florida's native wildlife in an up close animal demonstration from one of our animal trainers. After meeting our Wild Florida family members, you'll be introduced to the head gator at Wild Florida: Fluffy. After the show, make sure to get your photo taken with him to remember the moment you can say you held a gator!
Not only are these animals eager to meet you, but now is the perfect time to visit them! While our animal encounters are a separate charge, we're offering everyone free Gator and Wildlife Park admission through the end of 2017. But don't let the adventure stop at the Gator Park in Orlando. Make sure to book an Everglades airboat tour when you visit to get the full Wild Florida experience and see what real, wild Florida is all about.
*Some of the animals listed on this blog are featured in our animal encounter experiences and have a minimum age requirement of 8 years old.