You may not see airboats every day unless you work or handle airboat rides in Orlando, so it's no surprise that we receive a variety of questions about our airboats! Check out our frequently asked questions and learn more about the airboats that make our rides the best in Central Florida!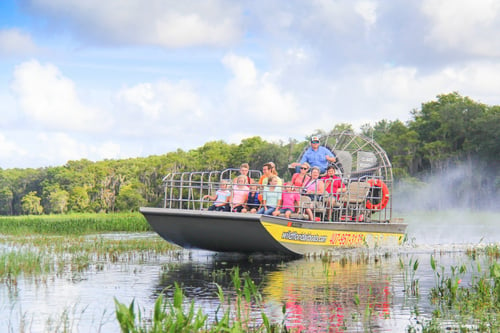 How fast do airboats go?
Racing airboats can reach speeds of over 130 miles per hour, but airboats gliding over Lake Cypress won't exceed a speed of 40 miles per hour. You are still sure to get some airboat hair at that speed!
Do airboats have brakes?
As we mentioned, airboats do not have brakes. Some rescue airboats used in icy conditions may have brakes that increase the drag of the boat, making it easy to slow down and stop. Airboats require a skilled captain to slow down and bring the brake-less airboats to a complete stop.
Related blog: 3 perks of going on an airboat ride in Florida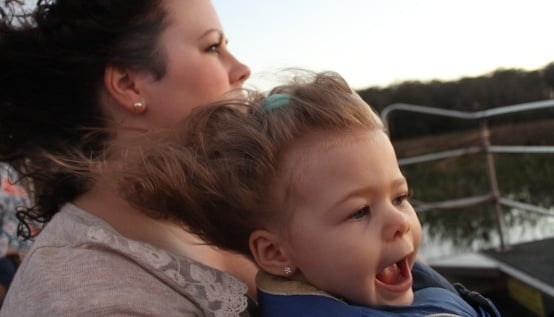 Is there an age limit for airboat rides in Florida?
Don't let the high speeds of an airboat deter you from taking the family out on an airboat tour. For our airboat rides, there is no age limit, with children three and under being completely free!
Where can airboats be used?
Airboats are great for use in nearly any type of terrain, including swamps, wetlands, dry land, ice, mud, and tall vegetation. Many different industries use airboats to make their jobs easier. Law enforcement, search and rescue, aquatic vegetation control, hunting and fishing, and airboat tours are some of the many industries where you might see an airboat in action.
Related blog: 3 things that might surprise you on your airboat ride on Lake Cypress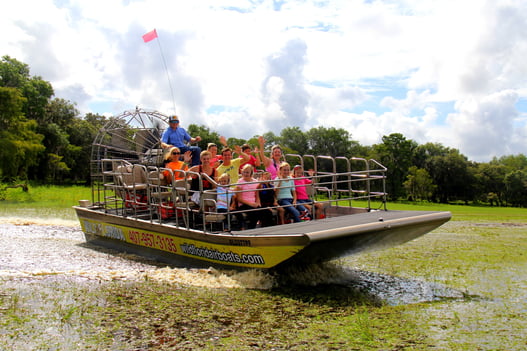 How safe are Everglades airboat rides?
While we love fun and adventure just as much as the next person, we want to make sure that you explore the headwaters of the Everglades in a safe manner. Our airboat captains are approved by the U.S. Coast Gaurd and will safely guide you and your family around Lake Cypress. Children five and under will be required to wear life jackets for the duration of the airboat tour, and protective earmuffs are available for everyone at your discretion.
What type of engines do airboats have?
Older airboats were known to have aircraft engines, but when service and parts were difficult to come by, they began to be replaced by V8 automotive engines. Every airboat may have a different type of engine with varying degrees of horsepower, depending on its purpose.
Do you have any other questions about our airboats or our Orlando airboat tours? Take an airboat tour with Wild Florida! Our captains can give you the lowdown on our airboats as well as our Gator and Wildlife Park, which is free from now through the end of 2017! Learn more about our swamp and enjoy your day viewing the plants and animal wildlife that call our wetlands home!