Florida is home to more than 30,000 lakes that cover a little more than 3 million acres total, each being its own unique body of water. Ranging from large to small, surrounded by a variety of plants and animals, it's unlikely you'll have the same experience on two different lakes. In this blog, we'll introduce you to Lake Cypress and go over three things you probably didn't know about the lake!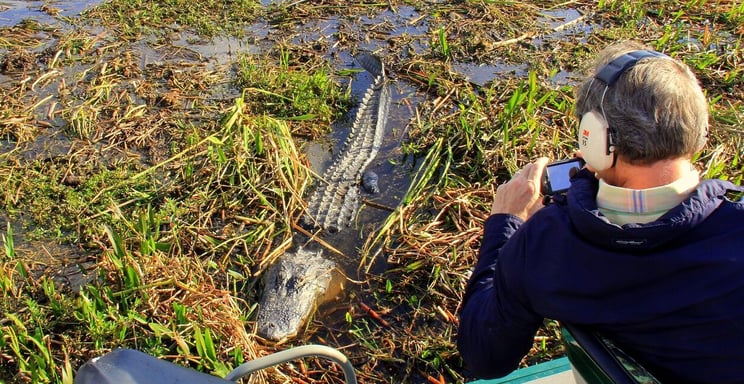 1. All of the water in Lake Cypress is rainwater that flows down from Shingle Creek
Lake Cypress is more than just a lake we operate our airboat tours on. It also happens to be a part of the headwaters of the Everglades! Spanning far beyond the 1.5-million-acre national park near Miami, the Everglades is actually a vast ecosystem encompassing millions of acres of undeveloped land between Central Florida and South Florida. Starting from the Kissimmee River, the water overflows through East Lake Tohopekaliga, Lake Cypress, Lake Hatchineha, Lake Kissimmee, and all the way down to Lake Okeechobee where it eventually flows out into the ocean.
2. An estimated 800 to 1,000 gators are living in Lake Cypress
Out of an estimated 5 million American alligators living in the Southeastern United States, about 1.25 million of them live in Florida alone. Lakes like Lake Cypress provide a more hospitable environment for alligators than rivers, as the waters are calmer, there is an abundance of food, and easy access to marshland to sunbathe or create a nest for their young. Although no one has actually gotten in the water and tried to count how many alligators live in and around Lake Cypress, we estimate that at least 800 to 1,000 live here.
YOU MIGHT LIKE: 5 facts our guests find most surprising during an airboat ride

3. The reason the water is murky/black-ish is because of tannic acid
You may not really notice it at first on your airboat tour in Florida (you'll be busy looking for alligators or whatever animals might be lurking around the shore), but the water isn't exactly blue... it's actually black. But don't freak out! This is completely normal. As vegetation decays, tannins disperse into the water, making a transparent, acidic water that is darkly stained, that might look like something you drink in the morning! Because of its dark appearance, many people think Lake Cypress is super deep, but the lake is only about chest-deep.
Ready to explore Lake Cypress for yourself? Click the link below to book your airboat ride in Florida today! Or, if you have questions on what to expect on your Florida airboat tour, check out our blog on some factors to keep in mind when choosing the right airboat ride for you and your family.