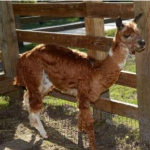 Paco, the Alpaca, is one of the newest family members at the Wild Florida Wildlife Park. Paco will be featured in our new petting zoo exhibit. Bring the family, and the kids will have a great time in the petting zoo with the various animals that are not easily found anywhere else. We also have other exhibits with animals like a Zorse, wallabies and alligators.
An alpaca comes from South America and resembles a small llama. Adult alpacas are about 36" tall at the shoulders and generally weigh between 100 and 200 pounds. They are extremely friendly animals that love people, which is why we are featuring them in our new petting zoo exhibit! This is mostly due to alpacas being domesticated for thousands of years.
Paco is just one of the fun Florida animals that we have here at the Wild Florida Wildlife Park. Not only can you come to Wild Florida to experience the animals, but you can also take an airboat ride around the headwaters of the Everglades. Wild Florida is located in completely undeveloped territory, unlike any other Central Florida airboat ride you will experience.
If you're interested in book a day at the Wildlife Park paired with an Everglades airboat ride, visit the Wild Florida website and book your time with us today. Don't forget to schedule some extra time to eat our Barbecue restaurant and shop at our gift shop. Located just outside of Orlando, you can drive out to see us and experience Florida in a new and unique way. Visit our website to purchase tickets today.