Collaboration and inspiration often lead to great things.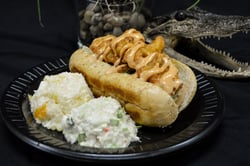 It's what led to the creation of Nia's Gator Po' Boy on the menu of Wild Florida's Chomp House Grill.

When visiting Wild Florida recently, Nia Bridgewater wanted to try eating gator, but she wanted it on a sandwich. Executive Chef Ramon Ayala asked if she had ever eaten a Po' Boy – the New Orleans-style sandwich on a baguette and topped with shredded lettuce, tomatoes, mayonnaise and pickles.

Nia, a doctor and a professor specializing in obstetrics in England, had never heard of a Po' Boy, but was willing to give it a try. She liked it, and Chef Ramon named the sandwich in her honor for collaborating with him on this new menu item.

You can try the Gator Po' Boy yourself at the Chomp House Grill.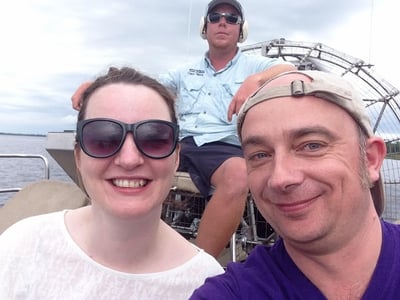 Nia, who grew up in Wales and now teaches obstetrics and researches ways for preventing complications in pregnancies, was really excited to be immortalized on the menu of Wild Florida. She thinks it's a great way to remember what she says was the best day of a three-week, 4,000 mile journey across the U.S.
One of the main reasons that she and her husband Stephen, an aviation enthusiast and editor of Jets Monthly, a UK magazine on vintage and classic aircrafts, hopped across the pond was to attend the Sun 'n Fun International Fly-In & Expo in Lakeland.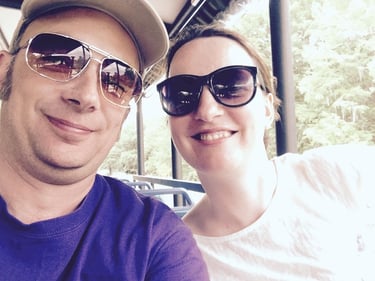 Of all their experiences traveling to Florida, Connecticut, New York, Philadelphia, Virginia Beach, and Washington, D.C., the couple enjoyed their visit to the Middle of Nowhere the most. Nia, whose family members are beef and sheep farmers in Wales, was particularly intrigued with the Ranch Buggy Tour because she was able to see the difference between farming in the Welsh hills and on the Florida flatlands. They also enjoyed seeing the wild side of Florida on an airboat ride.
Nia doesn't share Stephen's fascination with flying high in the sky, but she does like the fact that the planes are able to get her quickly to wonderful places like Florida.

Stephen and Nia live in Dale Arby, which is in northern England near Nottingham, but are counting the days until they can return to a visit to the Sunshine State.


---