Making dad feel special is the only thing on our to-do list this Father's Day! If you have a hard time deciding what to do for dad on Father's Day, you're not the only one! Instead of buying him something this year, how about creating unforgettable memories with him? Wild Florida is the perfect place for dads and their crews on Father's Day weekend... and if you don't believe us, here are 5 reasons why you should take your dad to Wild Florida for Father's Day!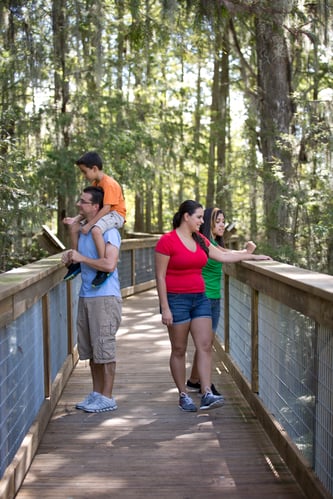 Reason number one: Whether it's dad's first airboat ride or his 100th, the one he takes with you will be the most memorable. No airboat ride is the same as the last, and you and dad will be sure to experience something you haven't before. Our awesome captains know which routes to take to make sure you see as much of the wildlife as possible. Alligator watching is a game you and dad can play while on your Orlando airboat tour... and there's a good chance you'll even spot some bald eagles, too! Here's some insight on alligator watching to put you ahead of the game with dad! Don't forget… your airboat wristband gets you into the Gator and Wildlife Park, too!
Reason number two: Speaking of the Gator and Wildlife Park, taking dad to an animal show is an experience he'll never forget. Here at Wild Florida, there are two show options – the exotic animal show or gator feeding – and we're sure dad won't want to miss either one! Our animal keepers make sure you learn as much as possible during these shows! A few of the stars introduced during the exotic animal show are the cane toad, an opossum, and our beloved Fluffy. And don't forget about the gator feeding... dad will never believe how quickly these gators can chomp down their food!
Reason number three: No need to leave the park early when dad's stomach starts growling... just walk over to our BBQ restaurant located at the park. The Chomp House Grill will definitely win dad over this Father's Day! What dad doesn't love fresh, BBQ food… especially to go along with a Swamp Slushy on a hot, summer day? Dad has multiple options from a juicy burger to the swamp sampler featuring Gator, Catfish and Frog Legs! There's a full kid's menu for the little ones featuring hot dogs, chicken tenders, and a BBQ basket. Our full menu is available with all of Chef Ramon's best dishes!
Reason number four: Standing in long, overcrowded lines is not something we worry about here at Wild Florida. Our 15-acre Gator Park has so much to see that there's never too many people waiting to experience just one animal or adventure. And don't worry about dad getting too hot and wanting to go home – there's plenty of shade and seating for him to sit down and relax when he needs to!
Reason number five: You'll have pictures to "bring home to mom" that last a lifetime when you and dad book an animal encounter. You guys can get to know some of Wild Florida's most exotic animals up close and personal! We offer three animal encounters at our Gator and Wildlife Park, and we're sure dad won't know how to choose. Dad can take a #SLOTHIE with George and even meet some birds and iguanas while hanging out with him. Or he can meet Stella and Safari, our African Crested porcupines. And we're sure dad would be excited about meeting one of the most endangered species on the planet, the ring-tail lemur from Madagascar! These little guys are just as adorable in person as they are in the movies. Make sure you book your animal encounter prior to the weekend, though – spots fill up fast and you don't want dad to feel like he's missing out on something!
So, there you have it. A Father's Day dad will never forget... and better yet, not only does dad get in FREE to our Gator and Wildlife Park, but so do the kids! You can take us up on this deal from Thursday, June 16th through Saturday, June 18th!