It's normal to get a little star struck the first time you spot a celebrity, whether you're totally caught off guard or are expecting to see someone famous. Funny thing is, this same thing happens when people pay a visit to our exotic animal show.
...Especially for those true animal lovers out there!
The exotic animals of our Wildlife Park take center stage during this show, with our animal keepers playing a supporting role.
This 20-minute show (which takes place four times a day) features animals from our very own backyard – you know, Florida natives – and animals that are found all over the world. A few of our favorite animals that you'll be introduced to during this show? Read on!
The cane toad – Bufo, this nearly two-pound toad, is one of our favorites to share. However, our Australian friends usually feel a little differently about it. The cane toad was introduced to Australia in order to help control the native gray-backed cane beetles that were affected their sugar cane crops. The only problem? These toads began to rapidly multiply, invading Australia in record numbers and annoying much of the population.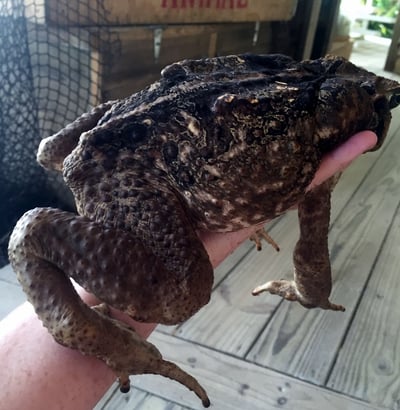 A few different kinds of snakes – Snakes are a pretty common occurrence around these parts, and we have quite a few that call Wild Florida home. During the show, you can meet Big Red, a red tailed boa, or even see a few other snakes, such as a milk snake (milk snakes look very similar to coral snakes, so they offer us an opportunity to dispel some myths about the correlation between a snake's colors and its capacity for causing serious harm).
Our beloved Fluffy – No, we aren't talking about a cute little bunny rabbit here. We're talking about a cute little alligator instead! Fluffy is one of many smaller alligators that call Wild Florida home and are perfect for our keepers to take hold of and show off to our guests. Keep reading to see what else you get to do with Fluffy at the exotic animal show...
An opossum – Petunia the opossum is just about as sweet as her name, even though many people may be taken aback a little upon first meeting her. People often think opossums are a type of rodent; however, they are not. Petunia and other opossums like her are considered marsupials.
Other than learning all about these animals and others, you'll also have the opportunity to hold Fluffy and take your picture with him after the show. No need to worry, our animal keepers are on standby while you have your turn at showing your friends and family just how courageous you are!