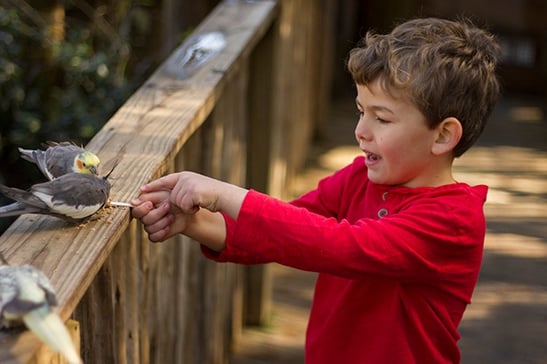 If you love birds, you will find our place to be downright magical!
As soon as you pull in our parking lot, our feathered ambassadors – our roaming peacocks and peahens – will greet you.
There are many places to view birds from all over the world in our Wildlife Park, but our walk-in aviary is truly special. You don't have to be a bird lover – and honestly, we can't understand why you wouldn't be in awe of these amazing, colorful creatures – to have a great time in our walk-in aviary in Orlando.

If you don't come for the birds from every corner of the globe in bright reds, greens, and golds, our walk-in aviary is a wonderful way to beat the heat. Shaded by trees, the aviary is a great place to pause and take in the natural beauty of the plants and trees where these birds live.

If you're brave enough – and we know you are – you can feed these birds with seed-coated sticks. It's the fastest way we can think of to make new friends! The birds will land on your hand, your head, and fly all about you in the hopes of catching some tasty seeds.

So what kind of birds live in the aviary at Wild Florida? Let's go exploring!
Cockatiels – It's the most common bird in our aviary, but it's also one bird that needs you the most. These birds, which originally hail from Australia, commonly experience night frights in captivity when sudden movements spook them. They usually will calm down when they get some human cuddles.


Quakers – These bright green birds native to Argentina got their name because of their shaking, but they are also known to begin talking at a very early age. We're not sure how well they listen, though.


Ringnecks – I bet you can guess how these birds from India got their name. But only the male has the ring around his neck. Sometimes called Indian ringneck parrots or parakeets, these birds can live to be 30 years old.


Sun conure – This bright orange and yellow bird native to Brazil, Venezuela, and Guyana – do you think they know Guy, Ana, and George? – are known for being playful, especially on ropes.


Eclectus – Native to Australia and islands in the South Pacific, these birds are known for their bright colors and feathers that looks like fur. The male is green with a yellow beak and the female is red with a black beak.


Pheasants – We've got both gold and silver pheasants. The gold is native to China and the silver is found mostly in Southeast Asia. Golden pheasant feathers are prized for use in fly-fishing lures.


Guinea fowl – These birds with the signature polka-dot looking plumage have lately been known as a friend to farmers and gardeners. They are natural grazers; their primary diet consists of weeds, harmful insects, and worms.
We could talk all day about any one of our more than 200 amazing animal species, but we know you will want to see them up close for an unforgettable experience.
---
---