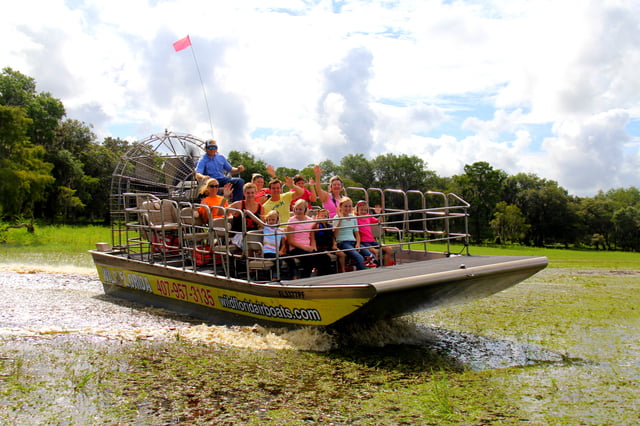 Everyone knows that an
airboat ride in Florida
is fun, but did you also know it's educational? Seriously, airboats put the
fun
in
Florida fundamentals
. Here are seven things you can learn while rocking some sweet #AirboatHair:
It's a spacious place – It's huge! The Everglades consists of more than the national park in South Florida. Here in the Middle of Nowhere, Florida, about 200 miles away, we're a part of the northern Everglades. As big as the Everglades is, it's currently only half the size it used to be. Now that we understand the importance of this World Heritage Site, lawmakers are working to restore this precious reserve.
Home to bald eagles – Florida has the third highest population of bald eagles in the United States. The bald eagle was on the brink of extinction in the late 20th century, but its population has since bounced back. Our national bird, and national animal, was removed from the list of endangered and threatened wildlife in 2007. Florida is lucky enough to host a large population of this majestic animal, with over 1,000 nesting territories.
Making connections – Many Central Florida lakes and rivers flow into the Everglades. The Florida Chain of Lakes links through Lake Kissimmee, to the Kissimmee River, right into Lake

Okeechobee! Lake Okeechobee is the largest lake in the continental United States contained in one state, and this bad boy borders the Everglades Agricultural Area.

Two different seasons – It only takes two trips to experience the Everglade seasons: Wet and dry. Wet spans from mid-May through November. This is when the water level reaches its highest point due to intense rain storms. The dry season, December through April, has the least amount of rain, so water levels are the lowest. However, water levels can change drastically from month to month in the Everglades.
Oh, prarie! – There's a lot of prairie! The Everglades contains the largest continuous stand of sawgrass prairie in North America. It's not exactly like Little House on the Prairie, but this sawgrass prairie and marshland is an important part of the Everglades. Many animals, including one of Wild Florida's favorites, the American alligator, call this place home. Even the Florida panther likes to spend some time on the prairie. In most places, the residents and foliage make it so the only way people can visit the sawgrass prairie is on an airboat.
Alligator love – There are over 200,000 American alligators in the Everglades. When they aren't hanging around the prairie, they're swimming all through the lakes and rivers in this national treasure. People find it hard to believe this reptile was ever endangered while on Florida airboat rides, because gators pop up everywhere!
Over-achiever – The Everglades has been named a Wetland of International Importance, an International Biosphere Reserve, and a World Heritage Site. It's the only location in the world to be on all three lists. We have always known this was a special place, but it's nice to know the world realizes it, too!
---