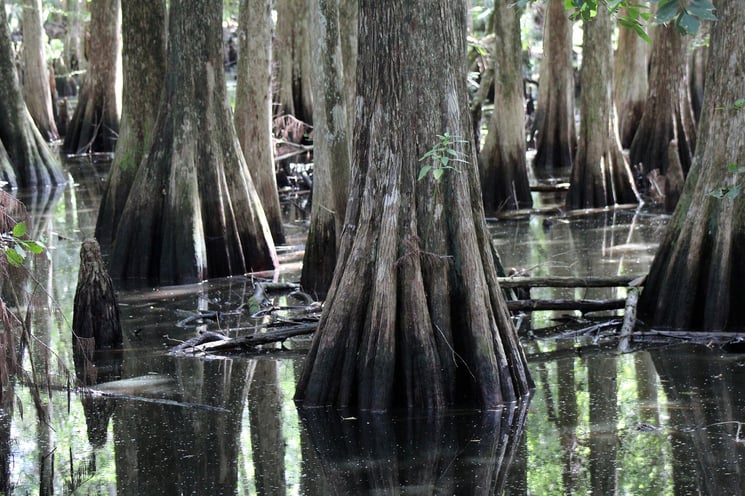 The bald cypress is what makes the swamp, swampy. The trees grow up out of shallow marsh waters, surrounded by their "knees", a common term for cypress roots.
You'll often see a cluster of tall, full-grown cypress trees surrounded by a fortress of short, knobby knees. It's an iconic dirt-free tree that literally stands out in the water, whether you're in a boat or on the shore.
A large concentration is known as a cypress swamp. Here, the trees' feathery leaves converge in a circular dome overhead that mirrors the water-logged hole (aka, a depression in limestone bedrock) from which a cypress swamp springs.
Cypress swamps are mini-ecosystems teeming with wildlife, including alligators, raccoons, and even peacocks here at Wild Florida. Take a walk along the boardwalk in our Hawk Swamp during the summer and feel the temperature drop about 10°F. No wonder the critters like to live here, especially in "sunny" Florida!
Speaking of our fair state, while we're not New England when it comes to fall foliage, we do see a fair share of color change thanks to the cypress. The colors are subtle tones, but quintessential autumn – tan, cinnamon, and burnt orange. The cypress also loses its leaves, which is where it gets the "bald" adjective in its official English title.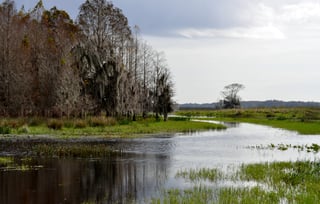 Central Florida is part of the northern Everglades ecosystem, where the slightly cooler temperatures give way to a rich variety of plants and animals not typical of the southern Everglades. There are cypress trees down south, but it's not common for them to change color like they do here (most years!). Fall, Florida-style!
We're lucky to have such a lush cypress swamp right next to our Wildlife Park. A lot of cypress swamps that once covered Central Florida have been drained for development, making a trip out to Middle of Nowhere, Florida worth the drive just to see these trees!
Before the residential housing boom, cypress wood was commonly harvested for homes, boats, and furniture, because of its strength and thanks to its water-resistant and anti-fungal properties.
We love our cypress trees here at Wild Florida, in case you couldn't tell. Heck, we're even located on Lake Cypress, named for the ubiquitous deciduous that thrives here!
---