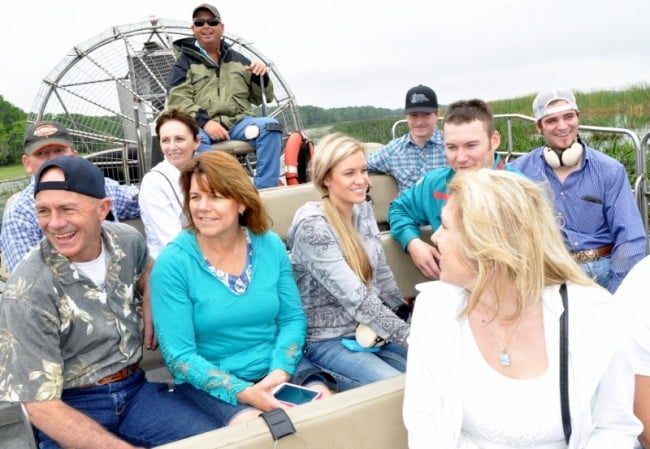 It's hard to top a wild ride on horseback, unless you are riding an airboat on Lake Cypress looking for alligators.
Five barrel racing and bareback riding cowboys and cowgirls spent part of Wednesday seeing the wild side of Florida at Wild Florida. They got to see more than 200 animals in our Wildlife Park, glide along the shores of Lake Cypress, spy an alligator trying to hide in the wild and sample some of the great barbecue from the Chomp House Grill.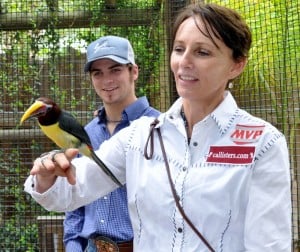 And, a visit to Wild Florida wouldn't be complete without posing for photos with a small alligator.
Barrel racers Nancy Hunter and Cheyenne Schnelle and bareback riders Steven Peebles, Bill Tutor and Cole Picton enjoyed a break from competition to visit the Middle of Nowhere.
Hailing from Oregon, Texas, Missouri and Utah, many of the professional cowboys and cowgirls had never been on airboat ride or seen an alligator up close.
Cowboys and cowgirls whose days are filled with the adrenaline sport that is professional rodeo get a charge out of seeing animals and going on an airboat ride? You bet.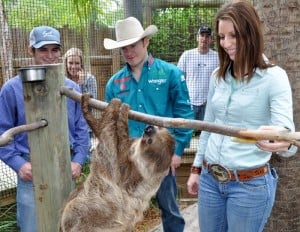 You may ride a horse in an arena for a living, but you don't often get to get up close with our sloths – Guy and Anna from Guyana, South America. Like many of our other guests who have passed through the park, it's hard to resist not taking a #Slothie – a #selfie with one of our sloths.
"It was pretty cool," bareback rider Bill Tutor said of his sloth encounter.
Seeing the animals from South America was not the only stop on this world tour of animals at Wild Florida. There were lemurs from Madagascar, a wallaby from Australia, porcupine, watusi, zebra and Zedonk from Africa and fox and raccoon from North America.
After touring the Wildlife Park, it was time to feed the gators. Once those first pieces of food hit the water, it was like ringing the dinner bell for the more than 50 gators that live in the pond in the Nature Park.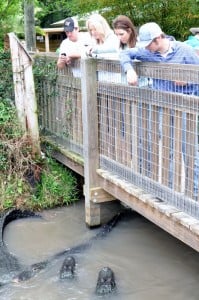 Then it was time for this group of cowboys and cowgirls to climb aboard an airboat to go on a hunt for alligators in the wild. They were not disappointed seeing some up close and other larger reptiles off in the distance.
"It was pretty cool being that close to the gators," said Steven Peebles, a bareback rider from Oregon.
The only way to top off this tour of the wild was a stop at the Chomp House Grill for some barbecue and fried gator.
You can a have a wild time at Wild Florida too. We've got 200 animals in our Nature Park, a variety of options of airboat rides and great down-home barbecue and other treats in our Chomp House Grill.