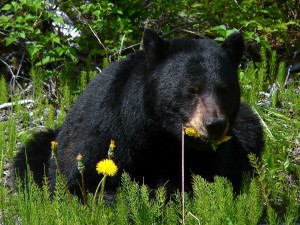 Everyone at Wild Florida airboats cares about the black bears here and we are happy to report that as part of its efforts to assist local law enforcement agencies participating in its black bear training program, The Humane Society of the United States has donated 24 black bear hazing kits to the Florida Fish and Wildlife Conservation Commission. These kits will help teams learn how to effectively haze bears that may have entered residential areas looking for food or just exploring the neighborhood. These materials are being delivered free of cost to support non-lethal methods of keeping bears away from human contact.
Black Bear Hazing Kits in Florida
The black bear training program is designed for Florida law enforcement agencies. According to The Humane Society website, the kits contain, "a can of pepper spray that works to deter bears, a holster for the bear spray and 10 rounds of bean bag ammunition for hazing black bears." The Humane Society received the bean bag ammunition at a reduced cost from Amtec Less-Lethal, a Florida-based ammunition manufacturer that is in full support of the project.
Protecting Black Bears in Florida
We are pleased to see larger agencies taking steps to protect black bears in Florida with non-lethal methods of control. According to the Florida Fish and Wildlife Conservation Commission, bears that are given access to food sources, such as garbage bins or barbecue grills in area neighborhoods, adapt quickly and may not be shy to contact humans as a result. This can put people at risk of an attack and bears are not afraid to travel long distances to track down food — including crossing bridges and roadways. This is why it is so important for residents to keep garbage away from bears by securing trash receptacles with a bear-resistant container or by protecting a garden by putting up an electric fence.
The Florida Fish and Wildlife Conservation Commission also encourages homeowners associations and local government agencies to institute ordinances that reduce the risk of attracting wildlife. See black bears on your next Wild Florida Airboat tour! Book your tour by calling 866-532-7167 today or send us a message online.