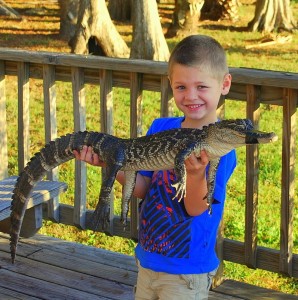 Are you planning a party for a large group this season? Keep everyone entertained by hiring a professional gator handler from Wild Florida airboat tours! We love introducing people to the world of Orlando alligators, snakes, and other critters that roam the Florida Everglades and can send a professional gator handler to your next event to provide a hands-on experience like no other!
Keep the Crowd Entertained with a Gator Experience
Not many people have the chance to encounter a Florida alligator during their lifetime and at most, will catch a glimpse of a gator swimming in a swamp or trekking through the marshland. Give kids and adults of all ages a chance to learn about alligators and even touch an alligator safely with the help of one of our gator handlers. Our trained professionals can come to your home, office, convention center, school, or other event venue and set up a hands-on experience with a real alligator. Whether your guests want to hold a gator or just learn more about the life of a gator, everyone will have a chance to try something new with our unique gator experience.
Booking a Gator Handler for Your Next Event
Whether you're hosting a birthday party, social gathering, or sporting event, choose from one of several exciting packages we have available to really make your event one worth remembering! We have a team of trained gator handlers on staff ready to introduce you and your guests to alligators and share some valuable information and facts about the Florida gator. This can be a fun and educational experience for all event attendees and offers plenty of photo opportunities.
Consider booking your own Orlando alligator experience with one of our gator handlers at your next event. Contact Wild Florida Airboat tours today to book your package.