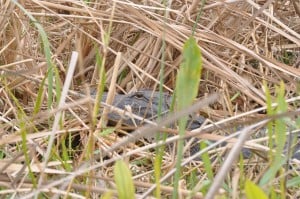 Spring is only about three weeks away, and with the upcoming warm season, you may begin to notice the sights and sounds of alligators more than usual. April marks the beginning of alligator mating season, though i don't think the gators are exactly marking their calendar. Regardless, spring and summer bring in warmer temperatures that are ideal for alligators, keeping them active as they search for potential mates. That means you may see increased gator encounters throughout the season, even at our Orlando airboat rides.
Alligators were on the brink of extinction, but have seen a large increase in population over the years, now with more than one million alligators in the state of Florida. They are often seen as solitary creatures until they begin mating during the spring and summer months. Believe it or not, the temperature of the nest is a deciding factor in how many males and females there will be. The warmer the nest, the more males that will be produced, and the nest will have around 30 eggs. You may even see a few baby gators swimming around our Orlando airboat rides during the summer and fall months once they've hatched!
Alligators have a lifespan of around 50 years, and begin reproducing between the ages of 8 and 12, when they've reached about 6 to 7 feet in length. Alligators make their presence known to other gators that they may potentially mate with by making low bellowing sounds in the water, and it can be loud. You may notice it this spring and summer if you're out on a nature hike or taking an airboat tour.
Whether it's winter or spring, Wild Florida offers Orlando airboat rides any time of the year so you and your family can enjoy the pristine environment of natural Florida. No matter if you live in Florida or are just visiting, book an airboat tour with us to experience Florida wildlife at its finest. Call us today at 407-901-2563 to book your tour and to learn more about our Everglades airboat rides.