Buzzing across Lake Cypress on an airboat is magical. Gliding on the water is an exciting way to connect with nature. It's fast! It's fun! And when your captain catches a patch of bulrush just right, it feels like you're soaring alongside the birds.
On a hot, sticky day, an airboat ride is refreshingly windy, and in the winter, a jacket is recommended even if it's not exactly sweater-weather on dry land. When the propeller is shut off, the flat-bottom boat just floats atop the water like an alligator. And yes, airboats are the best way to see an alligator in the wild!
Tourists are some of Florida's biggest airboat enthusiasts. Many visitors want to explore the gateway to the Everglades here in Osceola County as much the local theme parks. That's because it's a unique experience; a once-in-a-lifetime adventure for many out-of-towners. From honeymooners to families from overseas, checking out our pristine wetlands on an airboat ranks high on any Florida vacation to-do list.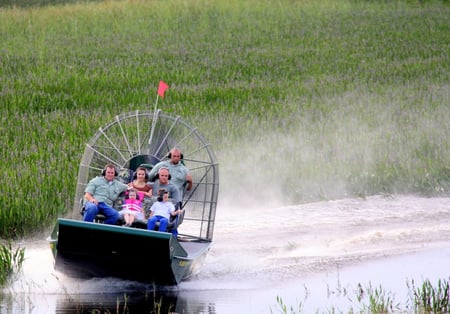 Locals also love to airboat, and ecotourism opportunities abound throughout the Sunshine State. We're airboat experts out here in Middle of Nowhere, Florida.
Our fleet of large and small vessels is docked right next to our Wildlife Park and waiting to whisk you away day or night. Daytime rides make spotting wildlife and soaking in the scenery easy. The moonlight, on the other hand, reveals a hushed, inky backdrop where the swamp comes alive at night!
All of our swamp tour guides are licensed Master Captains through the U.S. Coast Guard. It's the most stringent and comprehensive licensing process for inland tour boat operations. It also means that all our airboats are regularly inspected by the Coast Guard. Keeping our visitors safe out on Lake Cypress is our top priority.
(Bonus facts: The Coast Guard has its own fleet of military-grade airboats used for quick-response patrols and rescue missions throughout the country. Law enforcement agencies also use them for similar emergencies.)
Curious to learn more about how airboats work? An airboat is basically a flat-bottomed boat (aka a jon boat) powered by a giant fan. It's more like an airplane propeller than your typical outboard/inboard boat motor. Since the engine doesn't sit in the water, it can go all kinds of places a regular boat can't.
Older airboats were known to have aircraft engines, but when service and parts were difficult to come by, they began to be replaced by V8 automotive engines. Every airboat might also have a different type of engine with varying degrees of horsepower depending on its purpose.
Our airboats need just about six inches of water to high-tail it across the swamp, although we occasionally ride 'em up onto the shore (without passengers, of course!). Some airboats are designed to traverse ice, mud, and dry land.

Thanks to us and the local airboat club, there are a few well-worn paths on Lake Cypress. It's home to about 1,000 gators, and on any given weekend there can be several dozen airboats out on the lake. Our locals know how to have a good time on the swamp.
Airboats are one of the most adventurous ways to get up close and personal with wildlife and really get into the thick of it while you visit the swamp. We have a variety of airboat tours and also offer private ride packages for special events. (Think of a bride making her entrance on an airboat instead of a horse-drawn carriage. Oh yeah, we can make that happen!)
So whether you're local or just visiting, put an airboat ride on your bucket list. We'd love to help you check it off!
---