At night, when most of us are getting ready for bed, the swamp comes alive!
Out here in the Middle of Nowhere, Florida, it's not just dark, it's REALLY dark. And it's REALLY quiet.
But take a tour after the sun sets and you're sure to see and hear plenty. That's when many animals are just starting to wake up. The bats are among the first to come out and play in the twilight, swooping through the air to catch bugs for their breakfast.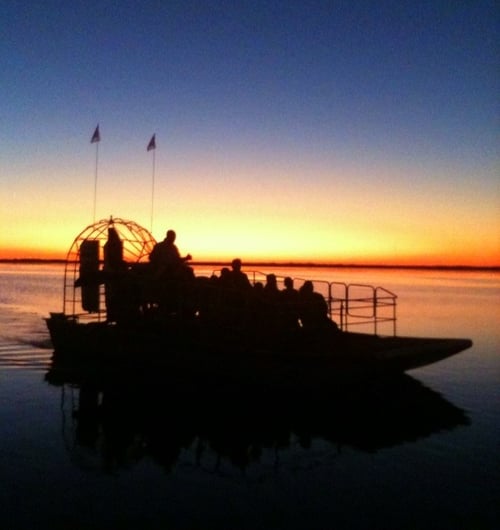 An orchestra of natural sound then kicks off and reverberates throughout the swamp. There's a baseline chitter and chirp thanks to the birds and insects. A constant croak from the frogs. The owls chime in sporadically with stirring hoots. And if you've never heard the baritone bark of an alligator, we can see to it that you get an earful.
The 100 gators who call our Wild Life Park home and the 1,000 or so others who live in Lake Cypress where we're located are noisy at night, especially in the summer when they've got lots of energy, and during the spring when they mate.
These nocturnal native Floridians do most of their hunting in the dark, waiting in silence for their prey. But when they feel threatened – usually by bigger gators or humans – they may sound a growl or bellow. Sometimes they hiss, too! Gators are particularly vocal when it comes to protecting their nests.
We've got flashlights, spotlights, and headlamps that help illuminate these critters and their habitats after dark. But when we turn 'em off, that's when you're able to see things that you can't during the day.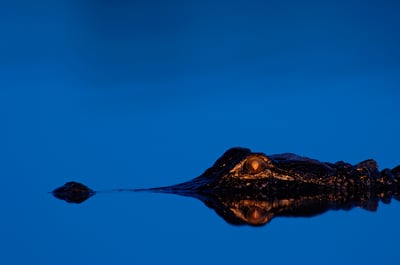 The most vivid example can be seen in the eyes of certain animals. At night, gator eyes glow a vibrant red. Racoon eyes are yellow. And deer have a blue tint to their eyes. Dark skies make even the faintest light seem bright out in the swamp.
Although some of our animal residents are nocturnal by nature, like our foxes Chandler and Phoebe, they're usually pretty quiet after the park shuts down. (After all, they hang out with our visitors and are pooped at the end of the day just like us!) But the critters who live in the surrounding Hawk Swamp work the night shift 365 days of the year. And so does Kenny, our trusty groundskeeper. He and his dog Annie make sure the property is safe from animal prowlers.
We close at 5:00pm, but we'll stay open so you can take a moonlight airboat ride at night and explore the Central Florida Everglades. We can also arrange animal encounters and feedings with gators and other animals in our Wildlife Park. Get here at dusk and enjoy a beautiful sunset over Lake Cypress to usher in what's sure to be a unique experience.
If you think Central Florida attractions are magical by day, come check us out at night and take a walk on the wild side!