If you take a ride on one of our airboats, chances are you will see an alligator in the wild.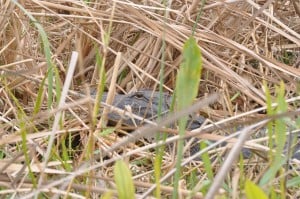 However, Mother Nature doesn't always cooperate. There are times when she's just not willing to put on a show. Sometimes, try as we might, our airboat captains aren't always able to show off the wild alligators hanging out in Lake Cypress.
Alligators are most difficult to spot during the summer when it is hot out. Unless you're an early riser or a night owl, you're probably not going to spot an alligator. If you want to know more about alligator food habits and reproduction, you can learn all you want from the Florida Fish and Wildlife Conservation Commission.
The best times of the year to spot alligators is March through May (which means we are coming up on one of the perfect times to see these amazing creatures) and September through November. However, if it's raining during one those peak time periods, you may not see an alligator in the wild during an airboat ride. Alligators like sunny, mild days...they sure sound a lot like the general population when it comes to this weather request.
Even if you don't see an alligator in the wild during an airboat ride, you are guaranteed to see alligators in our Wildlife and Nature Park at Wild Florida. There are four different places where you can see or interact with alligators at Wild Florida:
Gator Handling Show – where animal trainers give a presentation about alligators and show off young reptiles.
Gator Feeding Dock

– where you will be able to view and feed alligators (if you're brave enough, that is!)
Gator Bridge – a walkway over the pond where more than 50 alligators live.
Gator Platform – one last chance to see the alligators before leaving the park.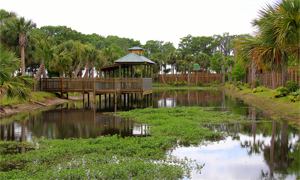 All four gator viewing areas are built around a pond holding alligators ranging in size from six feet to 13.5 feet long. It's where the alligators live, mate, eat and nest and has become the centerpiece of the park.
We always hope you get to see an alligator in the wild when riding on an airboat on Lake Cypress, but just in case you don't, you will be able catch of glimpse of the 50 wild alligators that live in our Wildlife and Nature Park, and that is sure to leave a lasting impression.