With Thanksgiving just around the corner, it's only a matter of time before the holiday songs start playing on the radio and you begin to think of sweet treats and what gifts you should give your loved ones. Between the holiday deals and trying to remember the subtle hints made through text messages and Facebook posts, it seems harder than ever to decide on what gifts to give this holiday season. Clothes? Electronics? Kitchen gadgets? Or... something you can experience together? Well, if you're looking to impress your friends this holiday season, here are some reasons why an Orlando airboat ride will make the perfect gift.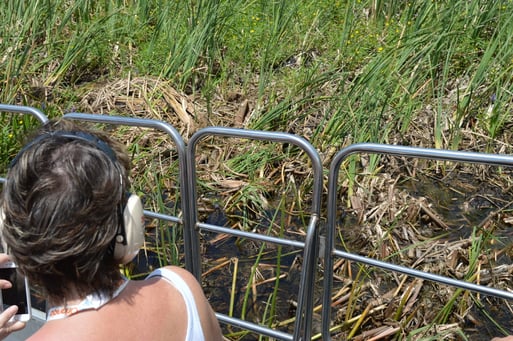 Fun for the whole family (or for you and your significant other!)
Whether you're trying to find something your whole family can enjoy, or you want to do something unique with your partner, an Orlando airboat tour may be just the thing you're looking for. With airboats able to seat up to 12 people, there is plenty of wiggle room for even the biggest of families. But, if you want to create a more intimate or personal experience for your spouse, smaller, private airboat tours may work better for you.
A gift within everyone's budget
No matter how big (or small) your family is, it's important to stay within a certain budget. While there are tons of holiday deals and promotions out during this time, for every dollar you save, you might be tempted to spend more. With an airboat tour, you get the best of both worlds. There are not only different tour options (such as half-hour or 1-hour tours) you can choose from, some are bundled with other experiences (keep reading for more details!). Some companies might even have discounts you can apply toward your purchase (hint: we do!).
Want to learn about Wild Florida's airboat packages? View our different tour options now!
Make it your own, one-of-a-kind experience your loved ones won't forget
Each holiday season, you set a simple goal. Not necessarily to get the most bang for your buck (but that's always a plus!). Your goal during the holiday season is to see your loved one's reaction when they see your gift. But, why only see it one time? To let you in on how you can see that smile twice, maybe three times this year, all of our airboat rides include admission into our Gator and Wildlife Park. However, you can go beyond the airboat ticket and Gator Park and add on other experiences such as an animal encounter, a ranch buggy tour, or try swamp delicacies from the Chomp House Grill.
Inspired to make this holiday season the best one yet?
Book your airboat ride online with us now!
If you want to get an idea of what a day at our attraction would look like before you book, though, you can read about
others' experiences
or take our Wild Florida quiz and let us show you what a perfect day at Wild Florida will look like for you. Either way, hope to see you soon in the Middle of Nowhere!