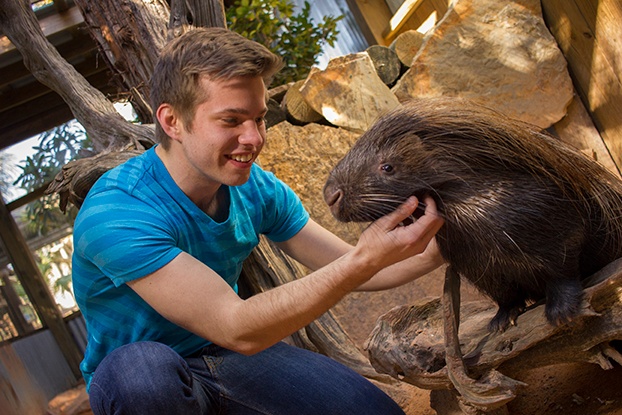 For some reason, our porcupines have a bad reputation. Many people hear about dogs getting into serious trouble with the prickly creatures in their backyards, but our two African Crested Porcupines think they're pups themselves!
Because of this, we thought it may be good to fill you in on why a porcupine Animal Encounter at Wild Florida really is something you should experience at least once. In no particular order, here are five reasons why these encounters are the fun for the entire family:


Hanging with porcupines makes you look tough, even though they're actually sweethearts. Did you know that African Crested Porcupines can't throw their quills? They're called the Crested Porcupine because when they feel threatened, they raise their quills into a crest shape and rattle them to make a hiss-like sound. But you won't hear that from Stella and Safari. These ladies are lovable puppies with what looks like a punk rock hair-do.


They're show-offs. These gals are so smart they actually train their keepers. Whether it's trying to take the Sulcata tortoise for a joy ride, dancing in circles, or playing tag, Stella and Safari love to show their humans new behaviors and ways to have fun.


Porcupines have impeccable manners. One of the best parts of a porcupine Animal Encounter is giving them treats. Their keepers make sure that they get all of their food groups, but Stella knows when new friends come in, they have one of their favorite treats to share – peanuts and grapes! Little known fact... Porcupines have adorable faces. Seeing their little noses scrunch up when they spy their favorite treats is guaranteed to make you smile.


They decorate your jeans for you. Porcupines don't understand personal space and just want to get to know you. Since they love to dig, their environment has a nice clay bottom, which they are happy to share with you. They help add a stylish touch to your pants with their friendly paws.


Porcupines inspire. We don't have the scientific data to back it up, but it is our belief that it's impossible to be in a bad mood while hanging out with porcupines. After watching them spin around, play tag, and cuddle up, all frowns are turned upside down. Whether it's been a tough week at the office or the playground, the best way to lift your spirits is to meet Stella and Safari when you visit Wild Florida!
Interested in seeing what really happens during a porcupine encounter at Wild Florida? Look below...
---