Our animal keepers are definitely part of the Wild Florida family. Each one really puts the "care" in caregiver. And the job entails a lot more than just feeding the beasts!
These men and women are vital to the health and well-being of our animal population – an eclectic group from around the world (including our own backyard in the Middle of Nowhere, FL). From an African Watusi to the pond full of Florida alligators, our Wildlife Park is diverse and its residents require A LOT of attention.
Our animal keepers feed, care for, and clean up after more than 200 small mammals, reptiles, amphibians, birds and, other species every day. That's all day, every day, and literally equates to tons of food (and dung) on a monthly basis. Hey, cycle of life, right?!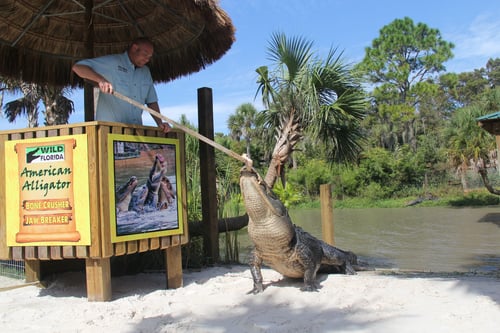 If your kids are picky eaters, you might have an idea what it's like at meal times around here. Our "children" eat different foods at different times, and our animal keepers have to keep up! They might be chopping fruit for our conspiracy of raucous lemurs, serving up dead rats to the foxes, or preparing whole, raw chickens for the gators' lunch! We also supplement many of the mammals' diets with commercial "monkey biscuits" – protein-filled, vitamin-packed cookies that some animals like more than others.
But just like accommodating parents, our critter caregivers make sure everybody gets a full belly and plenty of nutrition. The Chomp House Grill does a fine job keeping guests well fed, but making sure our animals are eating properly is both an art and a science.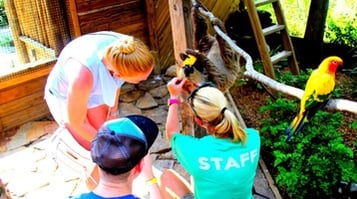 An animal keeper has to know more than just the facts about the creatures in their charge. They need experience, patience, and compassion. Like humans, animals are individuals with unique personalities. They've got quirks and idiosyncrasies just like us. Our keepers take pride in actually knowing the animals and can gauge their health and mood with a glance – a skill developed from constant interaction and care. They also closely observe, monitor, and track an animal's behavior when necessary, such as in the case of illness or birth.
Let our animal keepers be your ambassadors to Wild Florida. They're happy to answer questions and personally introduce you to members of our clan. Just like a regular family, ours flourishes with love, respect, and mutual understanding.
Check out our interactive map to learn more about the different animals who call Wild Florida home.
---