When you book yourself animal encounters at Wild Florida, it's an experience like no other... and we're not just saying that because WE think they are awesome. Everyone who has met our sloths, Guy, Ana, Aerie, Dash or George, during this encounter thinks so, too.
Just a few weeks ago, we had a family who surprised their father with a sloth encounter and his exact words were, "This is the best day of my life!"
So... What makes sloth encounters such an amazing experience? How about we share six things that could happen during your next sloth encounter at Wild Florida? We can't promise all of them will occur because animals are unpredictable, but we can promise some of them will.
1. Try your hand at feeding Guy, Ana, Dash, Aerie or George. Sloths love to eat fresh fruits and vegetables, like fresh mango or corn on the cob. It's a good thing they move slow, allowing you to keep a watchful eye during feeding time. One interesting thing to note about feeding sloths is that they can eat in any position – hanging upside down from a branch, curled up inside one of their favorite resting spots or even latched on to the side of the exhibit. Anywhere can be considered the dining table for these amazing animals.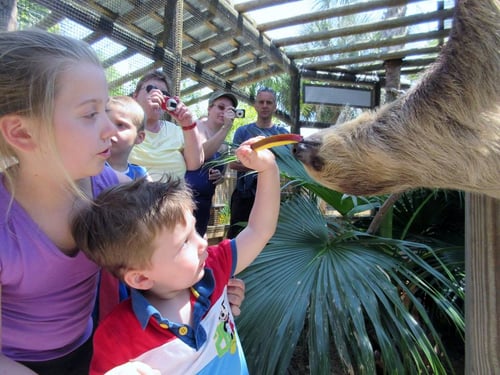 2. Check the difference of how a sloth's fur feels compared to your hairbrush. Really... there's not much of a difference. Sloth's fur is not necessarily soft, but it's not necessarily rough, either. There is a distinct texture to a sloth, especially the ones in our park because we don't bathe them. In the wild, sloths are known to grow algae on their fur from their slow movement and to aide in camouflaging themselves from any predators. Sometimes insects, like moths, can even be found living in their fur!

3. Become a perch for the birds in this exhibit. There are a few other creatures that live with our sloths, from iguanas to a variety of birds. While the iguanas do a pretty good job of keeping their distance when you're in the exhibit, the birds don't always run and hide. Oftentimes, the birds will even fly onto your shoulders, as if you were a perch. Or they might make their way towards your ankles (don't worry... a peck or two can't hurt that much, right?). The birds you may see with our sloths are aracaris (toucans), sun conures (parakeets), or turacos.
Ready to go on a sloth encounter for yourself? Click here to book your encounter online now!
4. Snap a #slothie with your camera. If there is anything you do while getting up close and personal with our sloths in an animal encounter, it should be making sure to snap a #slothie with it (you know... a sloth selfie!) We encourage you to bring in your camera or smartphone and take as many photos as you'd like. If you can't get the perfect #slothie, just ask our animal trainers to take a picture for you... they're more than happy to step in as photographer in order for you to capture the moment. Or... you can bring a selfie stick, they are a-okay in our book!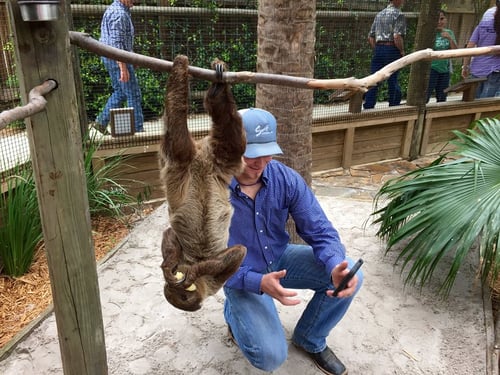 5. Ask our animal trainers anything you want. Speaking of animal trainers, this is the time for you to take full advantage of all they know about our sloths. You will have at least one trainer in the exhibit with you during your sloth encounter, and he or she will be happy to answer any and all of your questions. There is a lot to learn about these animals, and our trainers are a great resource when it comes to all of the animals in our park.
6. There's a 99.9% chance you'll spot an adorable sloth yawn. Due to their extremely low metabolic rate, sloths move sluggishly through the forest. They generally only travel about 41 yards per day (not even the length of a football field). While this may not seem that far for humans, all that traveling can really wear a sloth out! In the wild, sloths generally sleep about the same amount of time as humans sleep. But in captivity, they don't have to worry about predators and will often sleep 15 to 20 hours per day! It's safe to say they hit the snooze button regularly. So... you'll have to forgive Guy, Ana, and George if they're a little slow smiling for the picture.
So... who's ready to meet our sloths?!