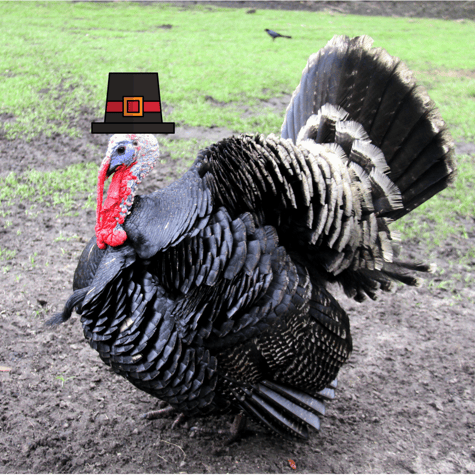 There's no better way to spend a holiday than how Americans celebrate Thanksgiving! Who's opposed to a day surrounded by family and never-ending food? Not us! Turkey, stuffing, mashed potatoes and cranberry sauce are a few of the best Thanksgiving must-have dishes, but we're sharing eight swamp-inspired recipes you can add to the menu this year to really impress your friends and family.
So move over, turkey – you might not be the star of the show this Thanksgiving!
Alligator Eggs – Even though there will be enough turkey and sides to have you stuffed for the rest of the day, appetizers are a must! Don't worry, we're not sharing a real alligator egg recipe, even though your guests might think so... This hors d'oeuvre is simple, delicious and just requires a bit of green food coloring. If you have a family recipe for deviled eggs, feel free to use that and just add a little dye to the yolk mixture. After they refrigerate for an hour, they're complete!


Owl Veggie Tray – Not only is this appetizer adorable, but it just requires some washing and chopping of your favorite vegetables! You can use your favorite store-bought veggie dip or make the one recommended in the recipe. Your guests will be impressed by your creative skills on this one!


Turtle Gravy and Rice - Who said gravy only belongs on turkey and mashed potatoes? This swamp-inspired dish is filled with fresh veggies and tons of cajun seasoning. It may seem different from the ordinary main course of Thanksgiving, but we promise there won't be any leftovers with this dish! You can find more turtle recipes here!


Grilled Alligator Meat - This dish is for all the simple eaters out there. Turkey isn't for everyone, but gator might be! It tastes similar to chicken, just juicer and more tender. Just throw the meat on the grill, top it with the special seasoning, and in 10 minutes this main course will be complete! We share some more of our favorite gator recipes here.


Macaroni and Cheese Swamp Creatures – Macaroni and cheese isn't always a side dish for Thanksgiving, but we promise the kids will love this one… Plus, it's a sneaky way for them to eat their vegetables. You don't need much for these cute creatures, just pre-cooked mac and cheese (homemade or store-bought), green olives, and sautéed spinach. Another great thing about this dish? They're individually portioned, so you can plan for everyone at the table to get to enjoy.


Turtle Bread – Bread goes with any holiday meal, but instead of just buying bread from the bakery this year, try making your own! Your family will not only be impressed that you made your own bread from scratch, but you'll get to show off your crafting skills, too! This recipe is a bit timely, so make sure you start it right after you pop the turkey in the oven.


Swamp Rice Casserole – This dish might give your aunt's famous sweet potato casserole a run for its money. This recipe is not only hearty and easy, but it only requires one baking dish, so there won't be much of a mess left behind. It calls for rice, cooked sausage, a can of mushroom soup, a can of celery soup, and chopped onions. Did we mention it only takes an hour to prep and cook?


Texas Mud Pie – What's Thanksgiving without pie? What's the swamp without some mud? This dessert is filled with mud (chocolate), and it only requires 25 minutes in the kitchen! Be sure to make extra peanut butter mousse in case your guests would like a dollop on top!


With these swamp-inspired Thanksgiving specialties, you'll definitely be the talk around the table – in the best possible way! For more of our favorite recipes, visit our Pinterest page, or check out the Chomp House Grill the next time you visit our Gator and Wildlife Park!