Planning the perfect vacation in Florida is sometimes just as hard as navigating the area once you actually get here. There are tons of attractions, fesitivals, and things to do, and finding the right activity for you and your family to enjoy can be a daunting task. If you're traveling to Florida, your trip to the Sunshine State isn't complete until you've gone on an airboat ride. So... if you've just started your search, here are a few testimonials that will help you understand what to expect on an Orlando airboat ride, and what you can look forward to when you ride with Wild Florida.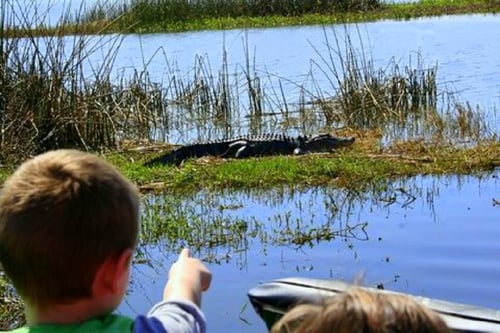 "If you are thinking of going to Wild Florida....GO! For our family, it blew Animal Kingdom out of the water. Captain Dennis took us on the most scenic and enjoyable 1-hour airboat ride and lunch was delicious. The animal park was better than many zoos I have been to. Such a natural habitat for the animals. I loved the serene swamp preservation walk and the big and hungry 'gators! Our 1/2 day adventure lasted until almost closing and we still didn't see it all. I will certainly be returning my next time in Florida. Sorry, Walt, can't say the same to you."
- Angela Cummings, Facebook
"We had a blast!!! I took my wife and my five kids, ages 3 to 14, and we bought a half-hour airboat ride and park entrance. We came from Oregon and wanted to see some real gators... and we did! The boat ride was awesome! We saw several wild gators, exotic birds, and had a few thrills on the trip. The guide was awesome! Then the park itself did not disappoint! Huge gators and baby gators, cute monkeys and crazy snakes, my kids loved it. We are going to a few other parks while here in Orlando, but Wild Florida will definitely be a highlight of this trip!"
- Seth Barnes, Facebook
"We booked the one-hour tour. The experience was amazing. We were on the 9am airboat tour on a cloudy, but warm day. It was perfect. Our boat captain Mark, was great, very knowledgable and we were able to see four wild alligators, both swimming and lying on the side of the swamp. We also saw wild turkeys, bald eagles and vultures. The opportunity to then look at the park around the lake was great as it has a variety of animals. We also held a small gator too. All in all I highly recommend this day out. It is at least half a day of good fun."
- MichaelJackson1984, TripAdvisor
"I took both my kids (ages 7 and 16) and my parents to Wild Florida and all enjoyed it. There really was something for everyone. It is a complete 180 when compared to the big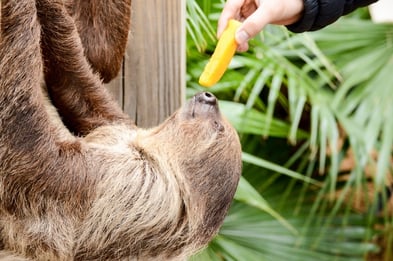 Orlando attractions. This was a relaxed, laid back day where the kids were able to get up close and personal with the animals. We bought a discounted package for park admission, an animal encounter and a picnic lunch. This turned out to be a very good value, and the meal was much better than expected. There were plenty of picnic tables in a shaded area when it came time for lunch. For the animal encounter we chose to meet the sloth. Who would have thought a young sloth would be fun to meet, but it was so sweet and very calm. There is an age requirement on the animal encounter, but they were very kind to my younger daughter who wasn't quite old enough which I really appreciated. Actually all of the employees seemed to love the park and animals and wanted their guests to feel the same. I was impressed with everyone I met. More than one person went out of their way to make sure we were having a great time. There is an animal show so make sure you find out what time it is scheduled for so you can plan around it. You don't want to miss it as there is a lot of audience interaction with the animals. I would warn to be prepared to spend more than just the entrance fee. There are a lot of fun things to do that cost a little extra. We fed the goats and llamas, fed the birds, and even fed the alligators which I highly recommend. Yes, the park is a bit of a drive and feels like it is out in the middle of nowhere, but it is completely worth the drive. We even spotted a bald eagle flying overhead on our way to the park."
You've heard it from us before, but so many of our fans agree – there are tons of things you and your family will be able to experience at Wild Florida. So what are you waiting for? Join us in the Middle of Nowhere!