Millions of people visit Central Florida every year. This includes in-state, out-of-state, and international visitors, which just goes to show how popular our area is as a dream vacation destination. Heck, this may even include you!
But who says the first stop on your dream vacation to Central Florida has to be somewhere like Magic Kingdom, Universal, or Sea World? While those vacation spots may be well-known and longtime Florida favorites of many, there's a lot more to see of Florida than these theme parks. Skip the crowded parks, long lines, and fabricated fun, and visit something a little more true to our roots the next time you visit Florida.
We're talking about the Middle of Nowhere!
Here are five reasons why you should begin your vacation at Wild Florida...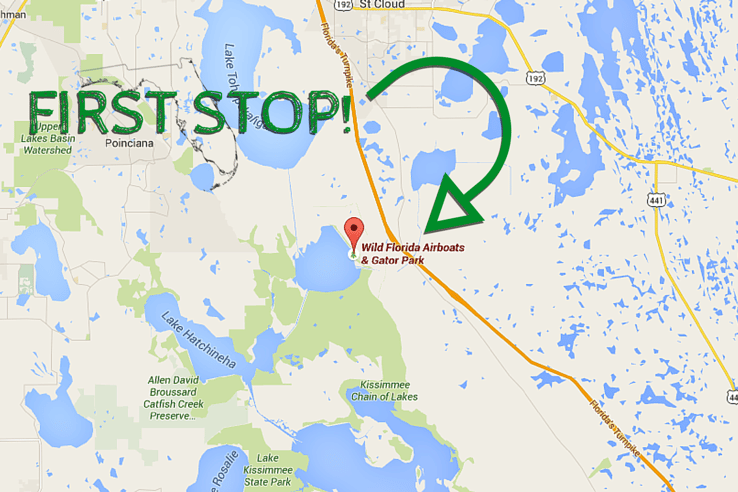 First and foremost? You'll never have to worry about crowds, long lines, or fabricated fun at Wild Florida. While our place is a favorite of many, it could probably still be considered a hidden gem of Central Florida. We put a lot of thought into the layout of our Gator and Wildlife Park to ensure that not only our animals have a lot of space to live, but our visitors have a lot of space to roam while visiting, too. There are shaded spots all over our park, making any lines you may have to wait in bearable. (But really, lines are

non-existent around here. The "lines" you wait in for the airboat tours is just taking a seat on our covered deck and waiting for your name to be called!)

And, speaking of airboats, the "fun" you experience on a rollercoaster is nothing compared to an airboat tour. This is REAL fun, Florida-style. You won't find our airboats hooked to tracks with set routes or speeds... Each and every tour is unique thanks to amazing airboat captains and acres of swamp for us to explore.


The sun and fun you experience here is a little different than the sun and fun you may encounter at one of our famous Florida beaches. Visitors come from all around to visit our beaches, and rightly so. Fun in the sun and sand is something we are known for here in Florida, but you can have similar fun with us. Nothing beats the feeling of the wind whipping through your hair as you take an Orlando airboat ride at Wild Florida, but the feeling is similar to that of the ocean breeze you experience at the beach. And we aren't lacking any sun exposure out on the swamp, either. Our airboats are open to the elements, which means you're still sure to get a little golden glow after an hour ride on Lake Cypress.


Soak in more than just sun at Wild Florida, but a ton of learning, too. You may not know this, but Central Florida is not just the headwaters of the Florida Everglades... we ARE the Everglades. There is a lot to learn about Florida and the history of the Everglades here when you step aboard one of our airboats. Our captains are equipped with a ton of knowledge of this area and all it offers, mostly because many of them are native to Florida, too. Looking to learn even more about Florida? Take a ranch buggy ride and you'll also learn about Florida's ranching history. The cattle industry here dates back to the 16th Century, and Osceola County has deep roots in Florida cattle and ranching, giving us a lot to share during our ranch buggy tour of a real working cattle ranch. There are not many tourist spots in Central Florida that can offer you as much education as we can.


The Everglades and the history of ranching in Florida are two great topics to learn about, but you can also get up close and personal with native Florida animals at our Gator and Wildlife Park. Our place is perfect for animal lovers. We pride ourselves in offering native (and non-native) animals of Florida a home at Wild Florida where they can be well taken care of while also using them to educate others about what amazing creatures they are. We have a true love for animals and we want to foster that love in others. There are theme parks out there that offer some nice animal exhibits, but at Wild Florida you can even sign up for an animal encounter. With an animal encounter, you're invited into their home and welcome to feed, touch and take photos with some of your favorite animals.


Finally, when you start your Florida vacation at Wild Florida, you can get a taste of what real southern delicacy is all about. At our restaurant, the Chomp House Grill, Chef Ramon serves up traditional southern barbecue, Florida favorites like

gator, turtle, catfish, or frog legs, and meals with a twist like tacos or rice and beans. Chef Ramon is from Puerto Rico but has lived in Florida since 1989. With nearly thirty years here in this great state, he knows how to serve up a true southern meal. At the Chomp House Grill, you can also dine outdoors on our covered deck right in the middle of the swamp. How often can you say you've dined in a swamp that makes up part of the Florida Everglades?