Company retreats aren't a new thing. In fact, many organizations have been doing them for years. These retreats are valuable for employees, management, stakeholders, and sometimes even their families in order to get away from the day-to-day and focus on big picture initiatives for the company or organization.
There are many reasons why you may be looking to host a company retreat, from boosting company morale to improving staff creativity and communication to encouraging your team to feel more like family. Whatever the case may be, a company retreat to Wild Florida will certainly do all of those things and more!
So, just how will a retreat to our place improve team morale and motivate staff?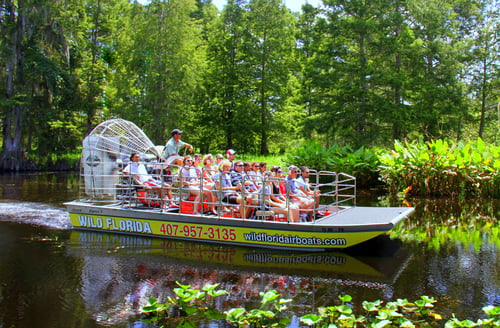 Well, the sheer fact that you'll be experiencing a one-of-a-kind adventure together can increase team morale. Low morale can negatively impact productivity, making workers sluggish. Maybe your team has had to put in long hours to complete a difficult project. This can lead to them temporarily forgetting what they really do love about their job.
The minute you step foot on an airboat and feel the wind whip through your hair, that sluggish feeling is not likely to stick around. Our airboats travel at speeds upwards of 35 mph, giving you a real adrenaline rush. It's known that an adrenaline rush can provide you with a large amount of energy as the body releases glucose and sugar directly into your bloodstream. While an adrenaline rush doesn't last forever, the memories you make will. And experiencing it with people you work closely with makes for a great time to look back on together.
After your airboat ride, there's a number of things your company can do. By this time you may have worked up quite an appetite. During the hectic day-to-day work schedule, some employees turn to working lunches without leaving their desks, or bring a packed lunch to eat in the break room. There's no way we'll let you have the same boring lunch at Wild Florida! The Chomp House Grill is lucky to have a Le Cordon Bleu chef whipping up some of the most delicious meals. Your whole team can come together in the air-conditioned comfort of our Cypress Ballroom or on the picnic tables that line the shore of Lake Cypress under our newly-constructed covered patio.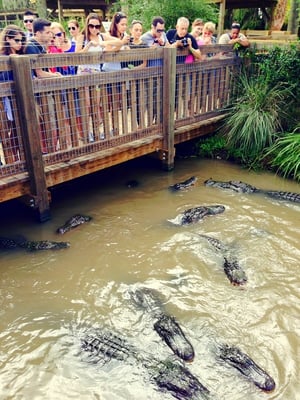 By taking the time to have lunch together, you're investing in creating a stronger-knit team of employees. Conversation will be had, whether it drifts back to the subject of work, or it goes beyond that and allows for your employees to really get to know each other as individuals. Oftentimes, you spend more time with the people you work with during the week than your own family, so getting to know these people as such could be beneficial. A team that acts like a family would most likely have better communication skills, enhanced trust and appreciation for one another, and increased productivity because they learn to work as a team.
Finally, you can round out your day at Wild Florida by visiting our Gator and Wildlife Park. Here you can see over 200 animals, some native to Florida and others from all over the world. Does someone on your team have a fear of gators or other exotic animals? Bond together during this time and help him/her face their fears by watching our gator feeding show, holding Fluffy, or taking a stroll through our animal exhibits.
Our team is happy to put together a package that suits your needs, and we'll even come up with other activities that interest you when it comes to fostering team-building, morale-boosting, and so on. You're going to love it!