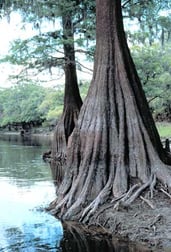 A tree that has dominated Florida's wetlands for around 6,500 years, the bald cypress, was also historically an important economical product for the early settlers. By the 1930s Florida was the nation's leader in cypress tree products. The cypress tree was popular for roof shingles, clocks, tables and mulch, and since has since earned Florida's protection. One of the most flood resistant trees in the world; the cypress tree's specialized root system known as 'knees', supplies the tree with oxygen by growing up out of the water sometimes in excess of ten feet.
The best thing besides their beauty that the cypress tree exudes to the visitors of Florida is the natural ecosystem and abundant wildlife that comes along with a cypress forest. The improved water quality, unique habitat and all the nesting areas created by the cypress trees make it a favorite to many birds and large mammals and some of the seldom seen animals in Florida.
The Central Florida area has many cypress trees and one of the best ways to see them is to take an Orlando airboat ride. Some of the old growth cypress trees in the area are over 500 years old. The majestic look of the cypress tree with its Spanish moss hanging off of it remains a symbol for the southern United States. If you decide to take an Orlando airboat ride, Wild Florida on the banks of Cypress Lake is a great way to see natural Florida. The lake is pristine, with a great population of alligators, birds and mammals. It also is almost completely surrounded by cypress trees. Visit Wildfloridairboats.com today to reserve your Orlando airboat ride, and enjoy seeing the cypress tree in its natural state.