Florida is known for its beaches, year-round sunshine and being home to the "Happiest Place on Earth". However, there are some real dangers, such as cohabitating with Florida's wildlife. Most may get in your way when you're driving, but animals such as the American alligator can destory property, hurt or even kill people if they aren't careful. Although 2016 was filled with some real, scary news stories, we're highlighting some of the wild gator stories you might've missed that will leave you saying, "Only in Florida!"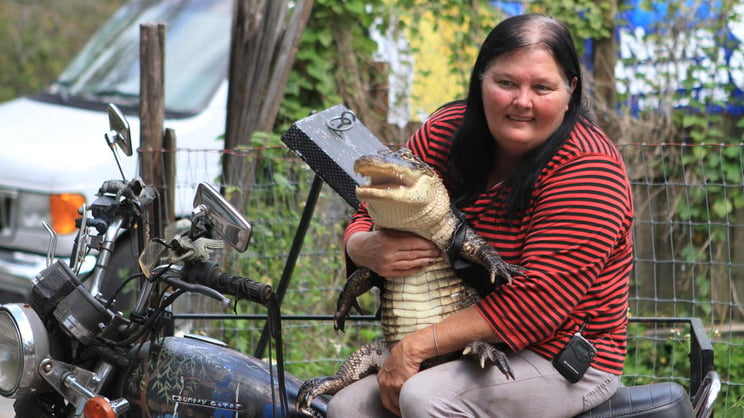 March 2016 - Meet Rambo, the trained alligator
Earlier this year, Floridians met a gator named Rambo that may not have been one of Florida's biggest gators, but nonetheless left us a little speechless. Well-known in Lakeland for making appearances at elementary schools, charity events and conventions to teach people about reptiles, Rambo, Mary Thorn's pet alligator, came under the media spotlight for a different reason. Weighing 125 pounds and almost 6 feet long, according to Florida Fish and Wildlife, he's required by law to have 2.5 acres of land available to him. But with a sensitivity to natural light, Rambo spends most of his days inside or in a shaded area, meaning he wouldn't even be able to use the extra land required by the state. With a court date looming on Rambo's fate, Thorn is doing everything she can to keep her gator by getting him certified as a therapy animal and asking Rambo's fans and followers to sign a petition and reach out to FWC asking that he be allowed to stay.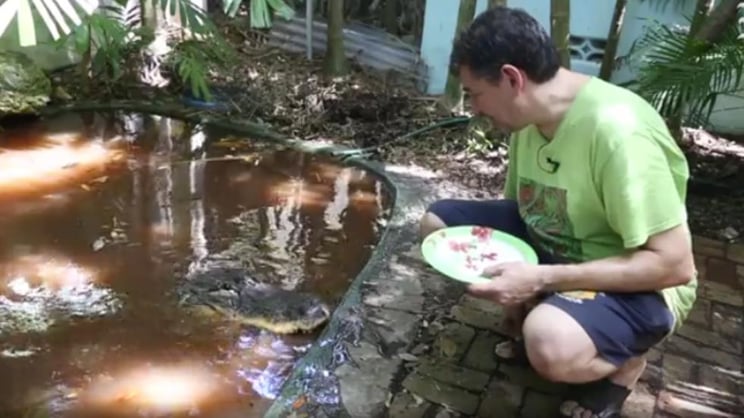 July 2016 - Man fights to keep pizza-eating gator as pet
This summer in Coconut Grove, in a similar situation as with Rambo, David Van Buren and his pet alligator, Gwendolyn, found themselves confronted once again by the FWC. Originally, in the early 1990s, the state took Gwendolyn away from Van Buren, leading to a battle in court. The judge ultimately decided that Gwendolyn could go back to her home, but years later, Van Buren was found in the same situation. After a complaint was made to Florida Fish and Wildlife, officials started an investigation and found the enclosure he lived in (yes, Gwendolyn is actually a male) was too small for this 13-footer. But instead of asking Van Buren to release Gwendolyn out into the wild, the FWC thinks it would be in the gator's best interest to stay with Van Buren (since they have been together for almost 50 years) as long as he creates a larger, more suitable enclosure for his pet.

August 2016 - Chubbs the gator takes a stroll on the green
It's not everyday you tee off on the green and almost hit a gator (especially one this big!). This guy is known as Chubbs to those who work at or frequently play at Buffalo Creek Golf Course in Palmetto, Florida. However, for California native Ken Powell, who hadn't seen a gator yet since moving to Florida, you can imagine his reaction when he saw Chubbs for the first time when he was working at the course. Despite how terrifying the 15-foot gator may look, Powell and other golfers aren't too worried about about Chubbs as he spends most of his days either in a reservoir on the golf course's property or basking in the sun off to the side.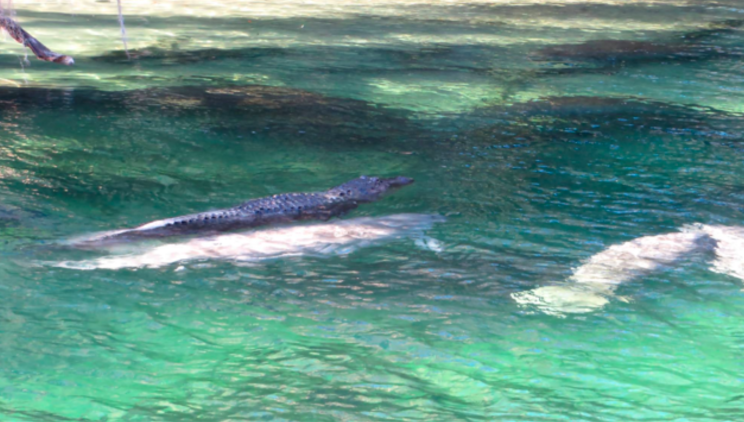 December 2016 - Gator hitches a ride on top of manatee
Earlier this month, Dana Menk was visiting Blue Spring State Park in Orange City when she noticed something odd in the water. While alligators and manatees are common in Florida, it's very rare to see both of them. At the same time. With one riding the other? You read that right! During her visit, she noticed that it looked like an alligator was hitching a ride on a manatee through the springs. Quickly snapping a picture, she posted her photo on the Florida FWC's Facebook page, which quickly sent the internet into a frenzy of hilarious captions and commentary.
See? We weren't kidding. These were just some of our favorite crazy gator stories that flooded our inbox with subject lines that read, Did you see this?! Did we miss any good ones? Tell us about it! Send a message to our Facebook page with your favorite alligator story from this year or tell us in person when you come for an airboat ride in Orlando. Hope to see you soon!