On Friday, August 25th, 2017 Hurricane Harvey, a Category 4 hurricane at the time, made landfall in Rockport, TX, bringing wind, lightning and record breaking rainfall. Stretching more than 200 miles across, Hurricane Harvey produced more than 50 inches of rain throughout certain areas of Texas, flooding homes and neighborhoods. With people unable to evacuate the state due to medical reasons or not wanting to leave their pets behind, many Texans were left stranded in their flooded homes. With motor boats unable to navigate shallow and tight places, our team at Wild Florida took our airboats out west to help the victims of Hurricane Harvey.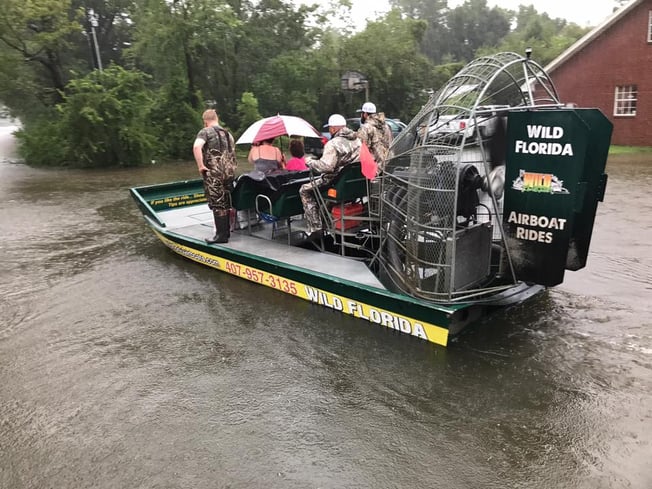 With flood waters rising and flood gates being released, news outlets quickly circulated that people were becoming stranded due to high waters and that motor boats were having a difficult time reaching victims. That's when our team knew we had to step up. On Monday, August 28th, four of our team members, who are all licensed Master Captains with the U.S. Coast Guard, loaded trucks up full of food, water, and gas and made their way to Texas with two U.S. Coast Guard approved airboats. After 14 hours and driving more than 1,000 miles, our team arrived in Baytown, Texas, around 6 p.m. and made camp for the night. Getting up at first daylight, our team in Houston was busy going neighborhood by neighborhood, rescuing victims (and their pets) from their homes each day before returning home on Saturday, September 2nd.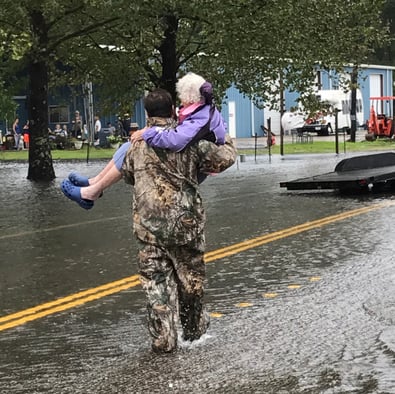 While an airboat's primary use is more for recreational activity, airboats can also be helpful for rescue operations, such as the ones needed in Houston. With uneven flooding and shallow waters, airboats allow our captains to travel across water and land to reach victims that regular motor boats can't reach. Another benefit to using airboats during rescue operations is that they are able to maneuver into tight and narrow spots, making it easier to get close to retrieve people from where they are stranded.
If you would like to help the victims of Hurricane Harvey, please consider donating to any of the organizations listed here.