Native Floridians are no strangers to hurricanes. But that doesn't necessarily make severe storms any less scary. While many people may have the option to evacuate before the storm, that doesn't always mean pets or animals can get away, too. So, as we stock up on water, batteries and canned goods for our homes, we thought it would be important to share the measures we take to ensure the safety of our animals and the Wild Florida facility in preparation for Hurricane Irma.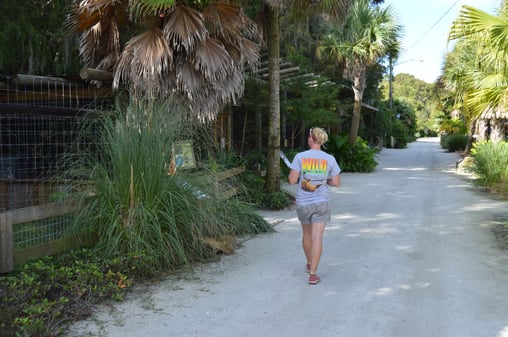 Walking through the Gator and Wildlife Park, you'll notice a fair amount of vegetation inside and around the exhibits, as well as the fact that all animal enclosures are made of wood. At Wild Florida, we go above and beyond the state-required space and basic features an exhibit should have, providing a more comfortable and natural enclosure for the animals in our Wildlife Park. But these extra measures don't make the enclosures hurricane proof. So, as our staff does a walk-through of the park, they make a note of any dead trees in or near exhibits that should be removed prior to a tropical storm or hurricane.
"To prepare for situations like these, we crate train all the animals here," says Kylie Reynolds, lead animal keeper at Wild Florida. "While all the exhibits are outside, there are some enclosures with glass, and we don't want to take the risk of the animals being cut if debris were to hit one. Crating the animals helps provide a temporary, safe environment for the animals to be in while the storm rages on."
After the animals are put into crates, they are moved to an interior holding room inside the dining pavilion that has no windows. To ensure that the animals feel safe in this temporary home, we add a few personalized touches. For example, the sloths' crates are actually fastened with a branch on the roof of the crate for them to hang from!
Our alligators, on the other hand, ride out the storm in their regular habitat – the Gator Pond. Alligators generally only spend about 20-30 minutes underwater at any given time, but they are able to breathe underwater for up to 24 hours if the circumstances warrant it. So they stay put during a tropical storm or hurricane... Which is great news for our staff, because moving that many gators would certainly be a little risky!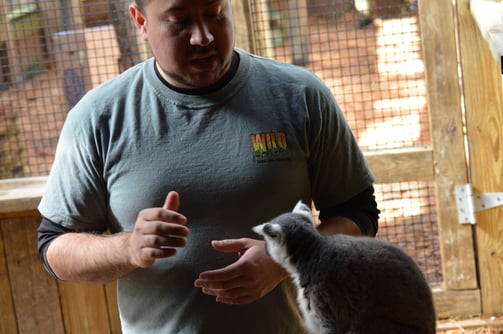 Another task that goes into preparing for a storm is making sure there is enough water reserved to keep the animals hydrated in the event that Wild Florida loses power and water. Since hurricanes are so unpredictable and last longer than a normal Florida thunderstorm, the staff at Wild Florida ensures that there is plenty of clean drinking water available for the animals to keep them hydrated throughout the duration of the storm.
Thankfully for us, one of our partners, the Florida Fish and Wildlife Conservation (FWC), is a great resource for us to use during times like these. Not only do they provide us with storm updates, but they often double check that we have all supplies needed in the event of a major storm. The FWC works with us, and other local partners, in providing additional resources like power, water and clean-up assistance after a storm.
While we pride ourselves on being one of the best Everglades airboat tours in Orlando, and we do our best to make sure our guests enjoy our park, it's just as important to us that our facility is safe for our guests, the animals inside our Gator and Wildlife Park in Orlando and Lake Cypress itself. Hopefully, this blog has put your mind at ease in knowing what our Wildlife Park procedures are when a storm heads our way.