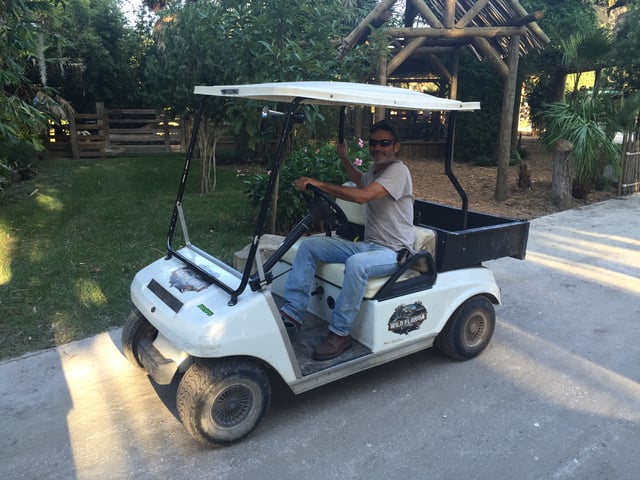 Wild Florida is home to exotic animals, birds, and reptiles from around the world, including the swamps of Central Florida. It's also where our very own master carpenter Kenny Colbert rests his head at night.
He's a rare breed himself, a backwoods kinda guy who helped build Wild Florida from the ground up. He lives right here on the property and takes care of it after hours. Talk about being close to your job. (Don't worry, we let him outta here once in a while!)
Kenny joined our staff years before the Wildlife Park officially opened to the public in 2014. He's become part of the family and his craftsmanship can be seen throughout the park. The boardwalk in Hawk Swamp? Kenny built it. The new aviary? Kenny built it. In fact, Kenny pretty much built all of our animal enclosures.
"If you can visualize it, I can build it," he likes to say.
We're located in the Middle of Nowhere, and that's exactly where Kenny's lived his whole life. Born in Huntsville, Alabama, he moved to Osceola County with his family at the age of 5, growing up in rural Campbell City, just outside Kissimmee.
He cut his chops hunting, fishing, and camping with his two older brothers on their family's 20-acre property in the 1960s, learning the ways of the woods and how to navigate the swamps. Kenny went on to become a carpenter, helping construct one of the first timeshare resorts in western Osceola County while he was still in high school. He honed his trade with the help of his uncle, who's also a master carpenter.
Kenny never worked in tourism before joining our team. He sold Christmas trees in Massachusetts every November-December for 28 years, developing a knack for customer service and making sure everyone goes home happy. He doesn't officially interact with Wild Florida visitors, but usually chats with a few each day, cracking a joke or simply directing them around the park.
Kenny hangs his hat in a small trailer on the edge of our Wildlife Park, near the herding animals, which he also feeds every day. At night, he and his dog Annie are on duty should any of our animals need help. Over the years, he's had to run off foxes, racoons, and other critters who occasionally wander in from the swamp after dark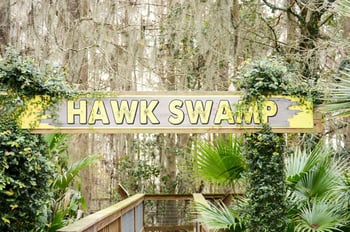 . It's pretty quiet these days, but Kenny and Annie are always at the ready.
He gets to town (St. Cloud, usually) about once a week, sometimes going for a meal at The Catfish Place, his favorite local eatery. (He recommends the catfish fingerlings, just for the record!)
Kenny's a real character, alright, and you'll have to meet him to see what I'm talking about. He doesn't own a TV and probably doesn't know an app from a smartphone. But that's part of his charm.
His amazing carpentry skills, country charm, and upbringing in rural Osceola County make him a perfect fit here. We can't imagine Wild Florida without him. Thanks, Kenny!