Alligators are notoriously great at blending in with their surroundings, and if you know where to look, spotting them in the wild can be rewarding. With years of experience guiding airboat rides in Florida, our captains know exactly where you can find these elusive creatures. But, for the average person (especially those who have never seen a wild alligator), you might be looking directly act them and not even notice them! So, how can you spot them before everyone else on your next Florida airboat tour?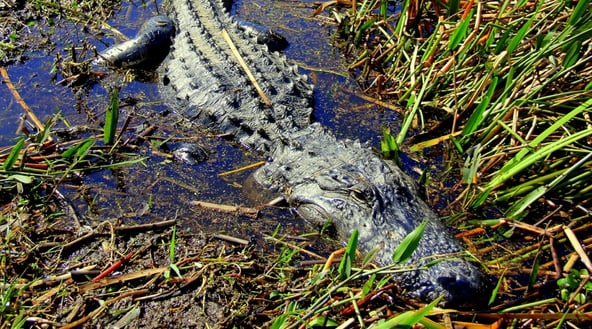 Alligators typically prefer still water with plenty of plants and vegetation, making the swampy shore banks and tall sawgrass marshlands a perfect hiding spot for them. Alligators also prefer to float in still water, meaning any pond, swamp, lake or other type of waterway can be home to wild alligators. So, if you're actively looking for them, be careful! One of the benefits of going on Everglades airboat tours is that you'll be able to see these fascinating creatures up close, but at a safe distance.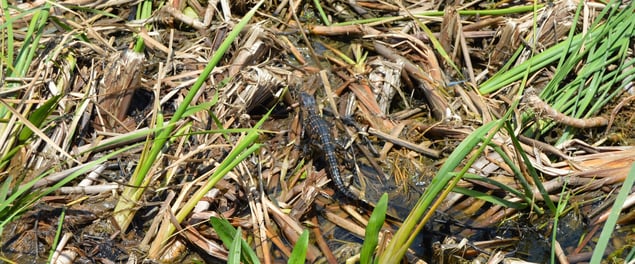 Like most reptiles, alligators are unable to regulate their body temperature, so they use their environment to help keep them cool or warm. Specifically during the winter months, alligators are more prone to resting on shore banks where sunbathing can keep their bodies warm. However, that's not to say that you won't be able to spot wild alligators during the warmer months. From late spring through the summer, alligator mating, nesting, and hatching seasons take place, providing guests a great opportunity to see the life cycle of wild alligators in person.
Want to learn more about wild alligators? Check out our blog on the lifecycle of wild alligators in the Everglades!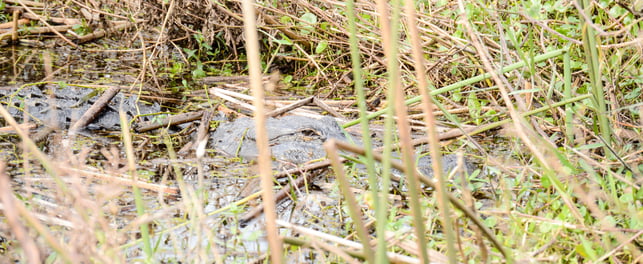 Another thing to look for when you're on an airboat tour in Florida is to look among the shore banks for flattened, muddy sawgrass. Wild alligators will sometimes create their own muddy beds by digging out some of the dirt and vegetation so they can blend their dark, scaly bodies amongst the background and watch prey. Being opportunistic hunters, alligators will wait patiently for curious animals to check out the watery depression in search for food, giving an alligator the perfect opportunity to strike.
At Wild Florida, we pride ourselves on delivering the best airboat rides in Orlando, with captains who dedicate their time to making your airboat adventure a unique and exciting experience. But don't limit your real Florida experience to just an airboat ride! From now through December 31, 2017, we're giving everyone free admission to our Gator and Wildlife Park, where you'll be able to get up close to more than 200 native and exotic animals. Book your airboat tour through the link below and make your next trip to Florida the most memorable vacation yet!