Since the Everglades stretches across two million acres, starting from the Kissimmee River all the way out into the Florida Bay, it's no surprise that it holds the title of the United States' largest tropical wilderness. And within these vast wetlands, hundreds of species living in the wild that simply know the Everglades as home. While it's unlikely that you'll see all of them on your Orlando airboat tour, you should be able to see 80 different species in just one tour! Our airboat captains have come up with a list of tips on how to best spot wildlife on Orlando airboat tours...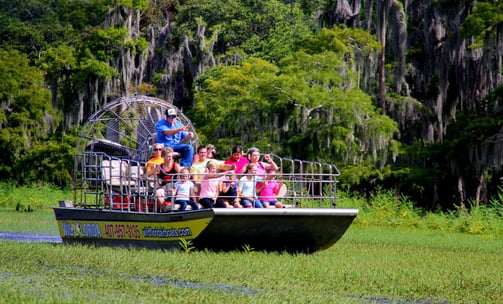 1. Get to know the plants and wildlife native to Florida
You can see many of the Everglades' native species – both animals and plants – on Orlando airboat tours through
the northern Everglades. To help you identify all of the animals or plants you might see on your tour, our captains would advise you to study up on some of the wildlife you're most keen to see so that they're easier to identify when you cross paths the day of your tour.
2. Best time to spot birds in the Everglades
If you want to get a good glimpse of the birds in our area, try meeting them when they're out and about. Most of them are usually out during the day searching for food, so our captains say that taking a morning or early afternoon airboat ride will increase your bird-spotting chances. Winter in Florida is the ideal time to spot birds that have migrated here from northern states, so you might have a better chance of spotting more bird species if you take an airboat ride during the winter months. (Not to mention, Orlando's weather should be beautiful!)
3. Consider the temperature
"To spot an alligator out in the wild, there are a couple things you have to consider: the time of year and what the temperature is like. The best time to spot wild alligators is during cool days because a lot of the gators will be out of the water, trying to keep warm. Not saying you couldn't see them in the summer months or on warmer days... They just will likely be in the water trying to keep cool, and since these are wild alligators, they can easily dip beneath the water and hide from us." - Captain John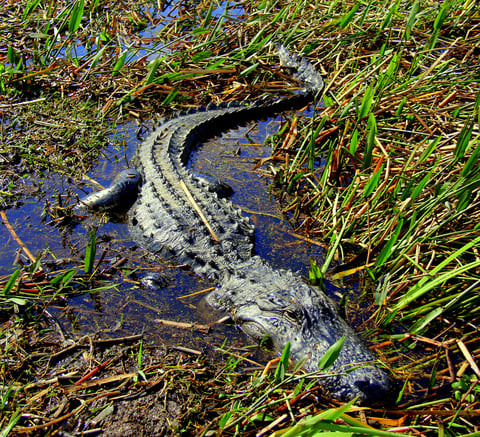 4. Watch for movement
"I try to watch for movement out in the water or out in the brush. When you're out on the water, it's a bit easier to spot birds because you can see the breaks of their color against the green or blue background. This tip also helps with spotting alligators that might be out in the water or along the shore. What might look like a piece of wood out in the water to most people, I know is actually an alligator." - Captain Marc
5. Looking for gators? Consider the time of year, too
"Alligators may be more active in cooler temperatures, but that doesn't mean they're hiding all summer. You can still catch many alligators being active throughout the year, you just need to keep in mind what time of the year your airboat ride is. Alligator mating season starts around mid-April and lasts through May, followed by nesting season, which begins around June and ends by July, then comes hatching season, which generally starts around August and lasts through September." - Captain Jeff
Excited to book your airboat ride? Plan your adventure now, and then capture as much wildlife as your camera can hold!