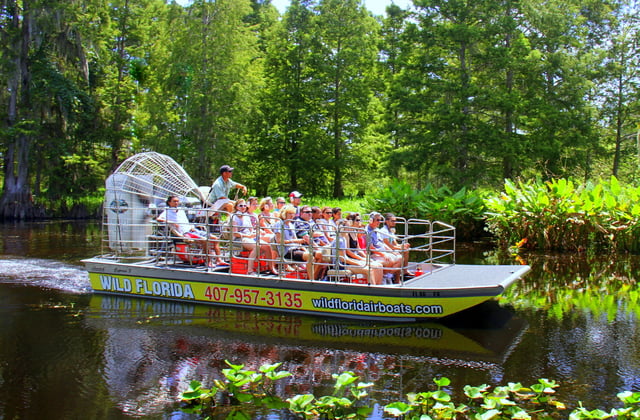 Florida airboat rides are cool. It's a scientific fact. They have engines with 500 to over 600 horsepower that can propel them across water, marshes, and even land. As amazing and fun as this is, it's completely understandable why it might make some people a bit nervous. With that in mind, we decided to share how an airboat's roar is worse than its bite (while following our airboat safety rules).
If you've boarded one of our vessels, or closely examined the pictures on this site, you'll notice that most of our guests aren't sporting a certain floating fashion statement. That's because we follow the U.S. Coast Guard's rules and regulations. Lake Cypress is considered navigable waters because we could actually travel from Lake Cypress, through rivers and streams, all the way out to the ocean. Because of this, the U.S. Coast Guard requires there to be a personal flotation device available for all passengers on a vessel, but only those under the age of five are required to wear them while the airboat is in motion. Most of our guests don't wear a personal flotation device while cruising around Lake Cypress but there are life jackets available on the airboat for every guest if you would prefer to wear that during your airboat tour.
Speaking of our vessels, did you know that we have every single Wild Florida airboat inspected by the U.S. Coast Guard? Every year, our airboats are inspected to make sure they are safe and seaworthy. Although this is only a requirement for our larger airboats, we have our entire fleet checked to ensure every airboat is in the best condition.
Another fact about our airboat policy that might bring you some comfort is that if there ever was an airboat accident out on Lake Cypress, you probably could walk to shore. That's right, walk. Because most of the Florida wildlife you would see during our airboat tours live off the lakeshore or along the trees surrounding Lake Cypress, our airboat captains stick close to banks of the lake so you can easily spot them. While it's hard to tell because of how dark Lake Cypress' water is, the water is only about six inches deep.
If you're new to Florida or this is your first time traveling to Florida, one thing you should know is that the weather here in the 'Sunshine State' can be pretty unpredictable. From sweltering heat waves to severe thunderstorms, even the best meteorologist doesn't get the weather prediction down 100%. That's why our staff constantly monitors the storms in the area and throughout the week and each day. We want you to experience the real, wild side of Florida in a safe way, and that doesn't involve being on an airboat during a storm. If we see a storm approaching within a mile of Lake Cypress, we will postpone our airboat tours until it is safe to venture out again.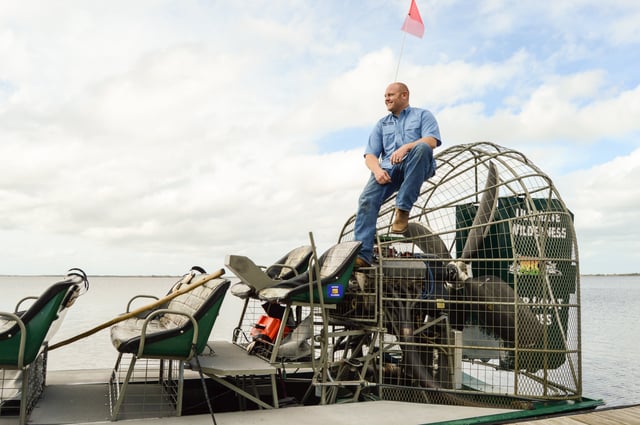 Since we keep our boats in the best condition possible, it only makes sense to have the best captains. Each of our airboat captains is a certified Master Captain through the U.S. Coast Guard. So, whether you're taking a private tour on one of our smaller vessels or bringing the entire family reunion on our largest boat, you'll have the highest level airboat captain as your guide. Our captains all have numerous years of experience and are the best you can find.
As a family company, it's an honor that other families choose to share their quality time with us. Whether they're from the other side of the world or our own backyard, we value each person that pulls into our Park. It's because of this that we will always go above and beyond for the safety – and experience – of our guests.
---