Although many people are familiar with alligators living in the Everglades, they're actually found all over Florida! After all, the Sunshine State was their stomping ground way before it belonged to humans. The Florida Fish and Wildlife Conservation Commission (FWC) estimates that there are 5 million alligators spread out across the southeastern United States, and 1.3 million of those alligators call Florida home! For most gators in the south, they inhabit freshwater wetlands such as cypress swamps and marshes, but can sometimes be found in saltwater… or even in sewers! But don't worry, these guys don't prefer to be in these strange places. Just like humans, they prefer to live in the comfort of their own home and they don't go out of their way to live elsewhere.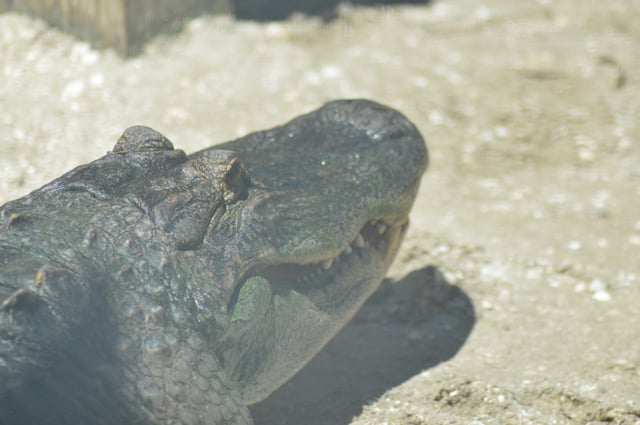 So, if you're interested in finding out some of the weirdest places gators have been found in Florida, keep reading!
Hanging in the dugout – We know that baseball dugouts can get pretty messy, and oftentimes you can find hot dogs, chewing gum and even popcorn on the floors, but these players never expected to see a live alligator! In the summer of 2015, a 10-foot American alligator was found in the visitors' dugout of a Florida baseball field. The players were pretty shocked to meet their newest team member, and they made sure to snap a few pictures (from a distance, of course) and notify animal control immediately.
Vacationing at a home spa – Who knew alligators had such a rough life that they needed a year vacation down in Vero Beach, Florida? Doesn't that sound like paradise? Vero Beach wildlife officers couldn't believe it when they found this alligator alive and well, living at the bottom of a residential hot tub. The homeowner claimed the gator had been a resident long before he moved in, and he'd decided to feed him raw chicken for a whole year! When wildlife officers discovered the large tenant, they returned him back to the swamp where he belongs.
Learning a thing or two from Tampa students – Lemurs are known to be very intelligent animals (I mean, have you met Lola and Lollie?), and maybe that's why this gator was found in a school... One alligator decided at 7 a.m. on a Monday morning that it was ready to give lemurs a run for their money. Somehow, a 7-foot alligator found its way onto the fenced-in campus of a Tampa middle school. Talk about crazy, huh? Luckily, a teacher spotted this big crocodilian before he startled any students.
Keeping an eye on the Florida locals from a sewer – A man from Apopka reported going out to check his mail and feeling some vibrations on his feet. He told WOFL-TV, "This can't be an earthquake, we're in Florida!" The man said he then heard some sounds and decided to walk over to the storm drain where he saw an alligator hanging out and hissing at him! He said he believed the 8-foot alligator was the same one he spotted in the retention pond behind his house earlier that week. I guess it's true what they say… You never know who has their eye on you!


Knocking on the door of a Plant City home –

This 9-foot alligator was found with its snout and forelimbs against the door of a Plant City mobile home in 2016. The gator was on time and ready for dinner without even being invited! The homeowner was terrified and immediately contacted the Sheriff's Office, who arrived just as the gator got up the steps and to the front door. It's safe to say not all alligators have manners!
You may have noticed we left swimming in a Florida pool off this list, and that's because it's not as uncommon as you may think. According to the FWC, "Alligators become active when temperatures hit between 82 degrees to 92 degrees"... Which is the better part of a year in Florida. Trappers usually find one alligator in a pool every summer!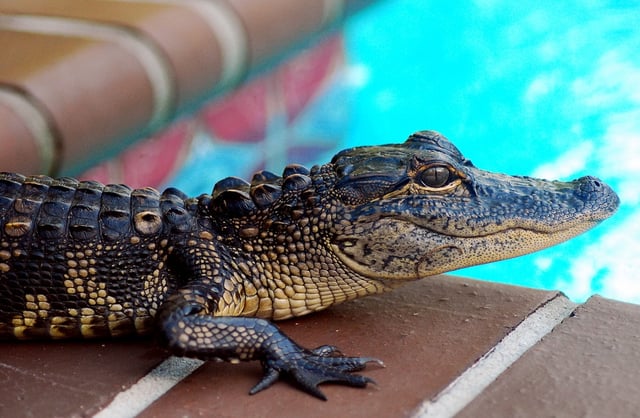 If you've spotted an alligator in Florida somewhere more off the wall than in these 5 places, share your story with us here or on our Facebook page and be sure to tag #BeWild!